Sturgeon challenges May over Brexit 'plan B' in meeting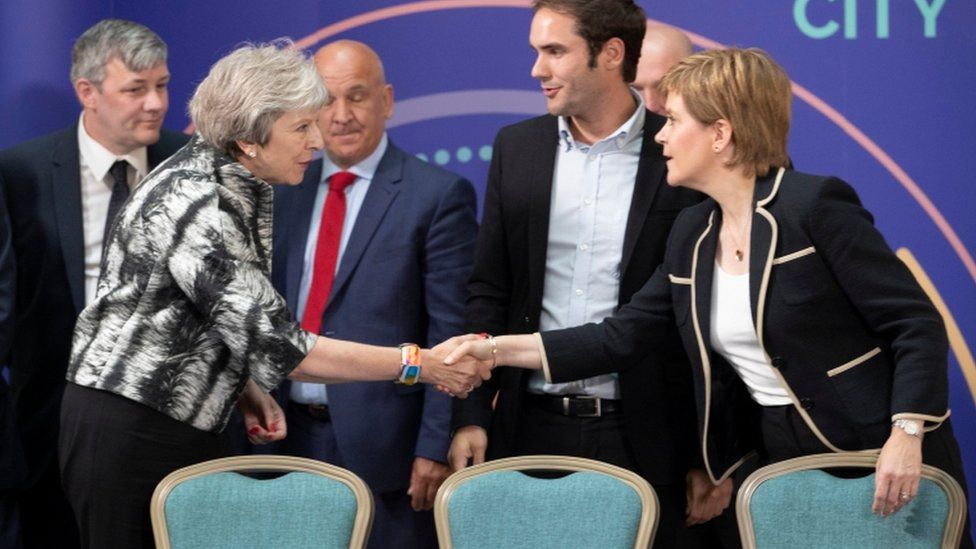 Prime Minister Theresa May has been challenged to set out a "plan B" for Brexit during talks with Scottish First Minister Nicola Sturgeon in Edinburgh.
Mrs May was in Scotland to mark the signing of a "city deal" investment package for the south east region.
Ms Sturgeon said the prime minister's Brexit plan "seems to be dead", asking her to set out an alternative to avoid the UK leaving the EU without a deal.
Mrs May urged the Scottish government not to "sow division" over Brexit.
She called on Scottish ministers to get behind her negotiating position, adding "a good deal for the UK is a good deal for Scotland".
She has also spoken to the EU's chief negotiator Jean-Claude Juncker in a bid to win him over to the vision of Brexit she agreed with her ministers at Chequers in July.
And while in Edinburgh she came under pressure from Ms Sturgeon to set out more details of what the UK's future relationship with the EU might look like after it leaves in March 2019.
Prior to the talks, Ms Sturgeon told BBC Scotland that Brexit would be "top of the agenda", saying the UK leaving the EU without a deal would be "catastrophic".
She said: "With every day that passes, the prospect of a no deal Brexit or a Brexit with very, very little information about the future relationship seems to become more and more likely.
"Both of those outcomes would be completely unacceptable, absolutely disastrous for our economy, so I hope she can reassure me that neither of those things are going to happen.
"But if she can't, then I hope she will outline her plan B, because we cannot simply take a step off that Brexit cliff-edge next March without knowing what comes next.
"If the PM continues on her current track, trying to pretend that the Chequers deal - which even within her own party seems to be dead - is the way forward, then there's a risk we end up there and that cannot be allowed."
After the meeting, Mrs May urged the Scottish government to get behind her proposals.
She said: "What the government has put forward in the Chequers agreement and the White Paper is a proposal that delivers on Brexit, that ensures we bring an end to free movement and the jurisdiction of the European Court of Justice, which protects jobs and livelihoods and is good for every part of the UK.
"What I want to see is as we sit and and negotiate that deal with the EU, I think its incumbent on the Scottish government to support the proposals, to be speaking up for those proposals in Europe, rather than sowing the politics of division.
"From Scotland's point of view, their trade within the UK's internal market is worth four times their trade with the EU.
"It's important that as we work on this deal, we are working with those in Scotland to deliver for Scotland. A good deal for the UK is a good deal for Scotland."
The Edinburgh and south east Scotland city deal was announced last year but was formally signed off by the two leaders on Tuesday.
It will see the Scottish and UK governments each contribute £300m, while local business and academic partners are expected to bring the total investment up to £1.2bn.
The funds will go towards scientific research on space, health sciences, agricultural technology and food and drink at five new "innovation hubs", as well as the creation of a new 1,000 seat concert hall.
This is the latest in a string of city deal packages, which have seen the two governments invest more than £1bn each in infrastructure and economic growth.
Mrs May is also to announce £13m in funding for six science centres across the country, including in Dundee and Glasgow, to help improve facilities and attract new visitors.