Row over private school business rates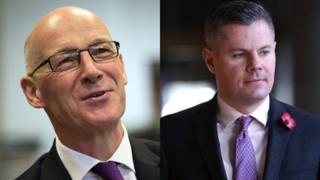 A row has broken out over Scottish government plans to end business rates relief for independent schools.
A newspaper has obtained a letter written by Finance Secretary Derek Mackay in which he suggests how a school might mitigate this.
The letter says the school could apply to its local council for rates relief.
Opponents have accused the government of passing the buck on rates relief to councils - a claim it denies.
The Scottish government plans to end the relief from business rates which independent schools have been able to claim as charities.
Some within the sector fear this will directly lead to school's raising fees, offering fewer bursaries or even closing.
Mr Mackay's letter was sent to John Swinney - the education secretary and MSP for North Perthshire - in response to the concerns of one of Mr Swinney's constituents, who is a governor of the independent Kilgraston School.
Mr Mackay's letter, quoted by The Scotsman, said there would be "merit" in informing the constituent that "when developing business rates reliefs I am fully aware that national incentives are not fully nuanced enough to fully flex to the needs of every sector and location.
"That is precisely why in 2014 I created a new power to allow councils to offer bespoke local business rate relief schemes."
He added that the governor concerned may wish to approach the council to request that they explore all options open to them.
There is no suggestion of wrongdoing against either Mr Swinney or Mr Mackay.
But critics claim it suggests that the SNP is split on rates relief for independent schools, and that the government is passing the buck on rates relief to local authorities.
Conservative education spokeswoman Liz Smith said: "On the one hand, Derek Mackay claims the Scottish government will use legislation to end business rates relief for independent schools.
"But then, when pressed on the matter by his own colleagues, he says it will be up to councils to decide whether or not to apply the policy.
"In other words, some councils might choose to end business rates relief but others would not. Such a situation would be seen to be highly divisive."
'Properly funded'
Labour claimed Mr Swinney had, in effect, lobbied for tax breaks for a private school and that this would anger other parents.
The party's education spokesman Iain Gray said: "Local councils have seen £1.5bn of cuts under the SNP government - they need help to fund local schools properly, not for the government to suggest they fund tax breaks for private schools."
A Scottish government spokesman denied that they were passing the buck to local authorities.
He said the government had accepted the outcome of an independent review that said reduced or zero rate bills relief for independent schools was unfair on state schools and should be removed.