Sturgeon announces boost for mental health services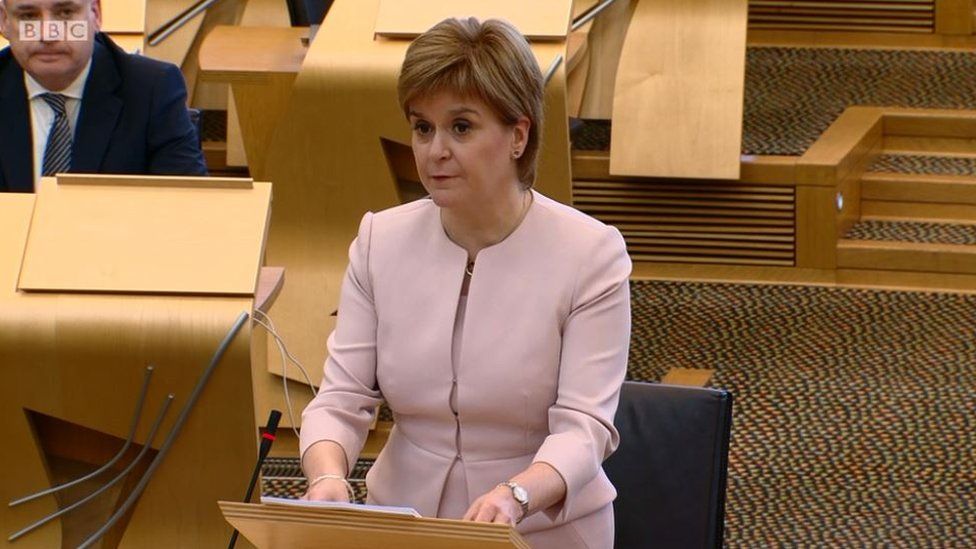 First Minister Nicola Sturgeon has pledged an extra £250m for mental health services as she announced her plans for the coming year at Holyrood.
Ms Sturgeon set out details of 12 new bills in her "programme for government" as MSPs returned from summer recess.
Mental health support for young people and increased capital investment were among the key measures announced.
Opposition parties said the government was being too timid, and had failed to follow through on previous promises.
Ms Sturgeon said the plans unveiled on Tuesday would see her government "focused on delivering for today and investing for tomorrow".
At the heart of the programme set out was support for mental health services, with Ms Sturgeon noting that more must be done to "support positive mental health" amid rising demand for services.
To help tackle the problem, Ms Sturgeon announced £250m of funding across the next five years to support mental health services, in particular for young people.
This includes £60m for schools, supporting 350 counsellors and 250 extra school nurses, to ensure every secondary school has a counselling service.
Teachers will be offered mental health first aid training, while the government will develop a community mental wellbeing service for people aged five to 24 and set up a fast-track system for young people with the most serious mental illnesses to get specialist help.
Ms Sturgeon said this package "underlines the commitment of this government to ensuring that our health services value and support mental wellbeing just as much physical wellbeing".
Infrastructure investment
The first minister also announced £7bn of capital spending by 2026, with extra investment in infrastructure such as schools, hospitals, transport, digital connectivity and clean energy.
She said her government had a "national mission" to produce "a level of investment in our vital economic and social infrastructure that will protect and create jobs in the short term, and support growth and productivity in the long term".
The Best Start Grant, which replaces the Sure Start Maternity Grant in Scotland, will be introduced before Christmas - six months earlier than planned
a new export growth plan
an NHS waiting times improvement plan
reforms in the justice system to support victims of crime
legislation to ensure EU citizens can vote in Scottish elections after Brexit
A "Finn's Law" by 2021, which will lead to tougher punishments for those who attack service animals such as police dogs.
Opposition MSPs will now have a chance to put forward their priorities, with further debates on the programme for government scheduled for Wednesday and Thursday.
Scottish Conservative leader Ruth Davidson said members would take Ms Sturgeon's plans with "a gritter-load of salt", saying the government was much better at making promises than following through on them.
She said: "They had great ambitions but remarkably little legislation has happened - not so much a relaunch, but a retread."
Ms Davidson said education plans were "an unholy mess, entirely of the SNP's making", challenging Ms Sturgeon to bring back the Education Bill shelved by ministers before recess.
While she welcomed some sections of the speech, such as the focus on increasing exports, support for mental health services and funding for electric vehicles, she said the overall package was characterised by "knee-jerk, backside-covering just-in-time-ism".
Scottish Labour leader Richard Leonard also welcomed the mental health reforms, saying the latest waiting times figures showed "how potentially important this announcement is".
But he said other things were missing from the programme, such as "a fair pay deal for Scotland's teachers" or a cap on agency fees in the NHS.
He added: "Eleven years into the SNP's office where is the vitality? Where is the driving force? Where is the real radical vision in this programme for government?
"Over those eleven years the SNP's ambition has not matched this parliament's power. For our part, Labour will welcome use of the powers and always push for a bolder agenda."
The Scottish Greens said the programme was a "missed opportunity", and that the response proposed on climate issues was hugely outweighed by the scale of the problem.
Co-convener Patrick Harvie said his party would work to push the government "beyond its comfort zone", adding that he would not enter budget talks with Finance Secretary Derek Mackay until "meaningful progress" had been made on reform of council tax.
Scottish Lib Dem leader Willie Rennie criticised Ms Sturgeon for raising the issue of Scottish independence early in her speech, saying that it was "independence first, last and always with the SNP, nothing else matters".
He said there was "not one note of contrition" from the first minister over "failures" on mental health waiting times, and urged her to back a new referendum on the final terms of the Brexit deal.
Related Internet Links
The BBC is not responsible for the content of external sites.