Teaching union EIS set to reject latest pay offer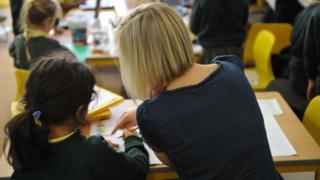 Scotland's largest teaching union is set to reject new proposals to increase salaries.
The EIS has been calling for teachers to be given a 10% rise to restore the value of salaries following public sector pay caps.
However, employers - represented by councils and the Scottish government - have suggested 3% for those earning up to £80,000 and changes to pay bands.
The union is set to respond formally to the offer at a meeting on 18 September.
It has warned that unless a suitable deal can be reached, it could ballot its members for industrial action.
'Good faith'
The EIS has already rejected proposals put forward by employers in March for a 3% rise for staff earning up to £36,500, capped at 2% for those on higher salaries.
The current offer would also see the small number of education staff working for councils and earning more than £80,000 get a rise of £1,600.
The changes to the teachers' pay offer are similar to the revised offer for council workers made last week.
In a statement. the EIS said: "We will continue to negotiate in good faith with both Cosla and the Scottish government. We must be preparing, also, for the likelihood of a ballot during this session and the possibility of industrial action."
The union is planning a large national rally in support of its 10% pay claim at the end of next month.