'Bed blocking' eases in Scottish hospitals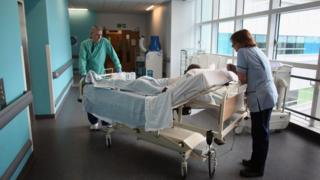 The number of Scottish hospital beds being "blocked" by delayed discharges has fallen over the past year, according to the latest statistics.
A delayed discharge is where a patient continues to occupy a hospital bed despite being clinically able to be discharged.
The figures showed delayed discharges cost NHS Scotland a total of 494,123 bed days last year.
This was a 6% drop from the 527,099 bed days recorded the previous year.
About one in 13 occupied beds in hospitals were due to delayed discharge last year, with an average of 1,354 beds being "blocked" by delayed discharges every day.
The vast majority - 69% - were occupied by people aged 75 and over.
Regional variations meant 18.9% of beds were occupied by patients waiting to leave in NHS Western Isles, while NHS Highland, NHS Lanarkshire, NHS Lothian, NHS Shetland, NHS Borders and NHS Grampian all recorded figures above the Scottish average.
Scotland's largest health board, NHS Greater Glasgow and Clyde, had the lowest proportion, with 3.1% of beds being taken up by delayed discharge.
It has been estimated that each delayed discharge bed cost the NHS £234 a day in 2016/17 - with the total bill put at about £125m.
The Scottish government's then-health secretary, Shona Robison, said in 2015 that she wanted to "eradicate" avoidable delayed discharge in the country's hospitals.
Complex needs
Delayed discharges often happen when a patient has to wait for suitable care, support or accommodation arrangements to be put in place.
Many have complex care needs, and are awaiting a place in a specialist facility to become available.
Opposition parties have previously highlighted the lengthy delays some patients have had to face before leaving hospital.
It was reported last year that a patient in Dumfries and Galloway had remained in hospital for 508 days after they were clinically able to leave in 2013/14.
The current health secretary, Jeane Freeman, said the latest annual figures were the third in row to show a drop in the number of hospital beds being blocked by delayed discharges.
And she said the integration of health and social care services would "enable us to make long-term, sustainable progress to reduce the level of delayed discharge".
Scottish Labour's health spokesman, Anas Sarwar, accused the Scottish government of "breaking its promise" to end bed blocking.
He added: "Hundreds of patients each month are languishing unnecessarily in hospital beds when they could be receiving appropriate care at home.
"The vast majority of these patients are aged over 75. The failure to properly tackle the social care crisis and delays in care assessments - the result of the SNP government's £1.5bn cut to council budgets - are causing this multi-million-pound scandal."