Council wants to 'scrap' P1 assessments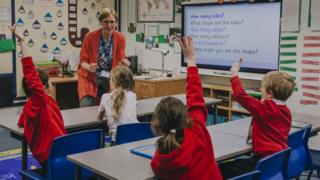 The leaders of Aberdeen City Council have said they want to scrap controversial assessments on P1 pupils in their schools.
The Scottish Parliament formally backed calls for the the Scottish government to "halt" the national assessments for five-year-olds on Wednesday.
Education Secretary John Swinney has said he will "reflect" on the defeat.
The coalition administration in Aberdeen has now said it is exploring options to "stop the assessments".
The administration is a coalition of Conservative, Labour and independent councillors.
In a letter to the council's chief executive, they asked for options to be explored for using the council's delegated powers to halt the P1 assessments, after which "we will consider our next steps".
Council co-leader Douglas Lumsden, a Conservative, said teachers, staff and parents had been making their opposition to the assessments clear for months.
He added: "Following the vote on Wednesday, we are now asking for the options that are available to us as an education authority.
"The SNP's poor record on education and failure to listen to experts - as well as parents - is simply unacceptable."
His views were echoed by his fellow co-leader, Labour councillor Jenny Laing, who said: "As a local authority, we have a responsibility to serve the best interests of our children.
"In the meantime, we would call on the SNP government to respect the will of the Scottish Parliament."
SNP group leader on the council Stephen Flynn said: "This is the worst kind of politicking by Councillor Laing and Lumsden.
"Aberdeen City Council has been testing P1 pupils for a number of years, long before Scottish government standardised assessments."
'Unusual decision'
There have been claims that the assessments have left some pupils in tears, while some teachers have questioned the value of assessing five-year-old children.
Guidance from the Scottish government released through Freedom of Information says the assessments are not mandatory.
But the expectation is that all children will take part except in exceptional circumstances, for example where a child has complex learning needs.
A Scottish government spokeswoman said: "Aberdeen has, with the active support of their head teachers, had P1 assessments as part of their schools for many years.
"It would therefore be a most unusual decision, unwarranted on educational grounds, if they were to not continue P1 assessments now."
BBC Scotland has launched a new podcast exploring the big political issues of the week at Holyrood and Westminster. The first episode of Podlitical is available now - with analysis of our interview with Jeremy Corbyn. You can download it and subscribe wherever you get your podcasts.
The assessments are opposed by the Conservatives, Labour, Lib Dems and Greens at Holyrood, who united on Wednesday afternoon to inflict a symbolic defeat on the government by 63 votes to 61.
Mr Swinney has already pledged to "consider" suspending the assessments following the vote - but at the same time advised schools to continue with their plans for the current school year.
First Minister Nicola Sturgeon came under further attack from opposition leaders over the assessments in the Scottish Parliament chamber on Thursday.
But she launched a staunch defence, saying: "Our consideration will not be party political opportunism - our consideration will be based on interests of pupils in Scottish classrooms.
"I want to have information from the earliest stage of primary school so we are know that we are not letting young people people down.
"We simply should not leave it too late to act and to intervene if young people need extra help."
Ms Sturgeon also claimed Scottish Conservative leader Ruth Davidson had "zero credibility" over education as her party backed the introduction of the assessments but now wanted them scrapped.
During Wednesday's Holyrood debate on the assessments, Conservative education spokeswoman Liz Smith said her party had "made a mistake" in backing P1 assessments in 2016, and had flagged up "misgivings" in the years since.
---
Testing the law
By Jamie McIvor, BBC Scotland Education correspondent
It is not clear exactly how a council would be able to refuse to carry out standardised assessments in Primary 1 within the law.
Scottish councils are fiercely protective of their role in the education service. But that service is also, essentially, a national service as well as a local one.
It is hard to think of a time when a Scottish council has explicitly refused to carry out the wishes of the government on a major issue. Thirty years ago no council refused to collect the poll tax - even though all parties other than the Conservatives were opposed and some councillors advocated or condoned non-payment.
It is safe to say the Scottish government's lawyers will be considering what action may be open to them if Aberdeen follows up on its threat.
But, away from legal action, it is not hard to see one very powerful tool which the Scottish government could put to use.
Councils are heavily dependent on the Scottish government for cash. Some of that cash can be earmarked for "shared objectives".
A few years ago, for instance, the local government funding settlement explicitly obliged councils to maintain teacher numbers or lose cash.
In the coming round of negotiations, it is quite possible to imagine the government saying that some money would be dependent on the satisfactory implementation of standardised national assessments. In other words - scrapping primary assessments might mean losing millions.
Perhaps a bigger threat to the P1 assessments comes from a campaign encouraging parents to ask heads to pull their children out.
The campaign is backed by the EIS. Could a sympathetic head effectively grant parents at that school an opt out?
On the other hand, supporters of the scheme suspect many parents might wonder what all the fuss is about and believe some concern was based on misconceptions. Parents may perhaps believe the assessments are carried out in a formal and demanding environment and not, essentially, in the form of a computer game.
That is one reason why the government staged public demonstrations of the assessments for MSPs and journalists.
Wednesday's vote did not oblige the government to scrap what opponents call tests - but it was certainly not the end of the debate either.