SNP minister has talks with People's Vote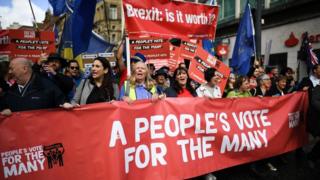 Scotland's Brexit secretary has held "very constructive" talks with the official campaign for a referendum on the final Brexit deal.
Mike Russell told Holyrood he had spoken to Hugo Dixon from the People's Vote campaign on Wednesday morning.
Mr Russell again stressed that the Scottish government would not oppose a second referendum on Brexit.
But he said he wanted a guarantee that Scotland would not again be taken out of the EU despite voting to remain.
The Scottish government is firmly opposed to Brexit, but has not yet backed calls by the People's Vote campaign for a second referendum to be held on the issue.
Last week, First Minister Nicola Sturgeon said the government would not stand in the way of another vote on Brexit, and would be "happy to have discussions" with those advocating one.
In the Holyrood chamber on Wednesday afternoon, Mr Russell was urged by Scottish Liberal Democrat leader Willie Rennie stop "sitting on the sidelines" and instead "get behind the best chance of stopping Brexit, which is a people's vote."
Mr Rennie said he and Mr Russell "have had talks on several occasions" about the issue.
He claimed: "To be brutal, what he wants is he wants me to back independence if he backs a people's vote on Brexit. That's what he's trying to get to and that is not going to happen."
'More reasonable voices'
Mr Russell responded by criticising what he said was Mr Rennie's "back us or else" approach.
He added: "Fortunately there are more reasonable voices who are arguing for this. For example I had very constructive discussions with Hugo Dixon from the People's Vote which was an interesting and informative step forward.
"That is the type of constructive engagement I would commend."
Mr Russell went on to say that the Scottish government "is not opposed to a second referendum on the final negotiated deal if that is the will of the UK Parliament."
But he said the People's Vote campaign had so far "not demonstrated how they would address the serious democratic challenge that if the people of Scotland voted clearly and decisively to remain within the European Union as they did in the 2016 referendum, they would still not face being removed from the EU against their will."