May: SNP should focus on issues that matter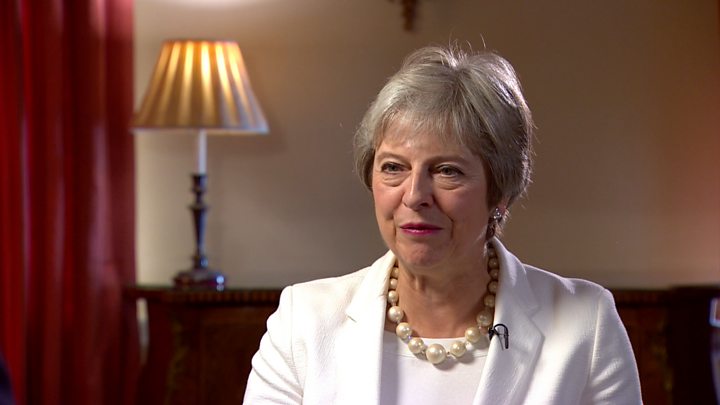 The prime minister has urged Nicola Sturgeon to stop focusing on independence and instead concentrate on the "day to day issues that matter to people in Scotland".
Theresa May said the independence issue had been settled by a "clear vote" of the Scottish people in 2014.
And she said the internal market of the UK was far more important to Scotland's economy that the EU.
Mrs May was speaking ahead of the Conservative conference in Birmingham.
Ms Sturgeon, the Scottish first minister and SNP leader, has said she will set out her thinking on the possible timing of a second independence referendum once the terms of Brexit become clear.
She had called for a referendum immediately after the Brexit vote - but the plan was shelved after the SNP lost 21 seats in last year's general election.
The prime minister was asked by BBC Scotland what she would say if Ms Sturgeon again asked for permission to hold a vote on the issue.
She replied: "I think it is important for the SNP to focus on the day to day issues that matter to people in Scotland and to stop focusing on independence.
"Scotland benefits from being part of the UK and the internal market of the UK is economically more important to Scotland than its trade with the European Union.
"But I am working to get a good deal with the EU that will be a good deal for Scotland and a good deal for the UK."
Mrs May said her aim was to secure a Brexit deal that "respects the proposals that we have put forward, respects the vote of the British people, ensures we bring an end to free movement, that we no longer have the European Court's jurisdiction here in the UK, and we don't send vast sums of money to the EU as we do as a member."
And she insisted that Scotland's fishing industry faced a bright future once the country left the Common Fisheries Policy.
She pledged: "We will be an independent coastal state when we come out of the European Union and I believe that will give real opportunities not just for maintaining but for enhancing our fishing industry."