Heart drug trials halted over Brexit fears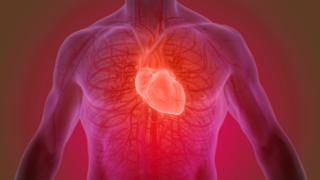 Clinical trials of a new heart drug have been stopped in the UK because of concerns over Brexit.
Medical research firm Recardio was due to try the drug dutogliptin on patients in Clydebank, Leeds and Exeter.
It has suspended all UK activities due to uncertainty about how new medicines will be approved after Brexit.
The department of health said it was confident the UK would continue to have the "best possible environment" for clinical trials.
The UK is due to leave the EU in less than six months on 29 March 2019 and has yet to agree departure terms.
Recardio was due to recruit patients at three sites in the UK including the Golden Jubilee National Hospital, near Glasgow.
The California-based firm wants to establish that dutogliptin can be used safely and effectively in combination with another drug to help repair heart tissue after a heart attack.
The Golden Jubilee said Recardio told its research team by email on 17 September that UK trials were being put on hold.
The hospital said Recardio had cited "uncertainty due to EU withdrawal" and "completely unresolved" issues with the European Medicines Agency that "represent a significant risk" to its business.
The hospital said Recardio's position could change "when the regulatory situation has clarity".
'Very difficult' situation
A Scottish government spokesman said "this is the first clinical study we are aware of to be suspended in Scotland as a result of Brexit - and a very concerning sign of what could happen".
A spokesman for the UK government's department of health and social care said: "We are confident of reaching a deal with the EU that benefits patients and continues to deliver the best possible environment in which to support clinical trials.
"We want to ensure that patients in the UK and across the EU are still able to access the most innovative and effective medicines."
Recardio's founder and president, Dr Roman Schenk, told the BBC he did not want to comment on UK politics.
However, he confirmed that uncertainty over Brexit had created a "very difficult" situation for his company.
It is understood Recardio is worried that the research data it collects in the UK might not be acceptable to the European Medicines Agency (EMA) after Brexit.
The EMA gives marketing authorisation for human medicines across the European single market.
In a statement, the EMA said that it "will continue to accept clinical evidence generated in the United Kingdom" after Brexit on condition that trials continue to meet European standards.
The UK government has said that it intends to stay aligned with EU regulations for clinical trials to avoid disruption even if there is no Brexit deal.
The charity, Chest Heart & Stroke Scotland's chief executive Jane-Claire Judson said she remained "seriously concerned at the lack of priority and focus given to providing detailed solutions to the health ramifications of Brexit".
Recardio is understood to be at an advanced stage in setting up its heart drug trials in the EU and the United States but has not yet recruited patients.
The UK clinical trials website confirms that Recardio is "not recruiting" in this country despite being due to do so between April 2018 and April 2019.
The UK trials were also supposed to involve Leeds General Infirmary and Royal Devon and Exeter hospital, both of which declined to comment.
Work appears to be continuing on dutogliptin trials in various EU countries including Austria, Belgium and Hungary.