Brexit stockpiling 'will hit economy' in medium term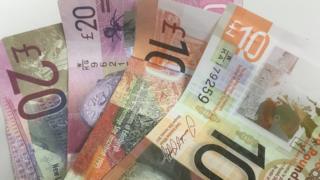 Brexit stockpiling may give Scotland's economy a short-term boost, but will have a "negative" effect overall, the government's top economist has said.
Dr Gary Gillespie said firms building up stock inventories before the UK leaves the EU could potentially boost Scotland's GDP by 0.4%.
However he said this would be "more than offset" by a subsequent slowdown.
Dr Gillespie's "state of the economy" report said there was an "improved outlook" despite the "risk" of Brexit.
The UK is due to leave the EU in March 2019, with negotiations ongoing about how the withdrawal will work and what the future relationship will look like.
The Centre for Economics and Business Research (CEBR) said in September that UK firms will have stockpiled an extra £38bn of goods by the time Brexit happens, claiming this was a factor in recent growth in gross domestic product (GDP).
Dr Gillespie echoed the think tank's warning that this short-term boost could be followed by a slump.
He said: "Building stock inventories in advance of March 2019 may bring forward economic activity to this side of EU exit.
"Our new analysis suggests that while this could potentially boost Scottish GDP growth in 2018-19 by up to 0.4%, this would be more than offset by a slowing of output in subsequent quarters.
"The overall effect of stockpiling on the economy is negative in the medium term."
Dr Gillespie's regular "state of the economy" update said there was an "improved outlook" for Scotland's balance sheet, despite the "main risk" of Brexit uncertainty.
He said the economy had grown in six consecutive quarters, "with growth strengthening in 2018" and outstripping growth in the UK as a whole for the first time since 2014.
Over the second quarter of 2018 there was expansion across all sectors, with positive growth in services, construction and production, and exports "growing strongly on the back of the weaker value of Sterling".
However, the new analysis also showed overall consumer sentiment had been negative since the EU referendum.
Dr Gillespie wrote: "Despite sentiment regarding individual household finances strengthening, attitudes to spending remain weak and households' expect the economy to deteriorate over the next year.
"Therefore a broader Brexit risk remains, which if transmitted into a significant fall in household confidence and consumption could have a material impact on the economy."
'Economic potential'
Scottish Finance Secretary Derek Mackay said: "Scotland's economy is strong and we are one of the top destinations for inward investment, whilst Scottish productivity has grown faster than the UK's over the past decade.
"We are using the powers we have to boost the economy and ensure our economic potential is realised at the same time as we try to mitigate the damage Brexit will cause."
Scottish Secretary David Mundell meanwhile has urged the Holyrood government to "focus on growing Scotland's economy", saying that "Scotland's economic performance is still struggling to close the gap with the UK economy which has opened up over recent years".
And Prime Minister Theresa May said on Monday that the UK would be building "ambitious economic partnerships" after leaving the EU, and said she would "make sure nothing gets in the way of our brilliant entrepreneurs and small businesses".