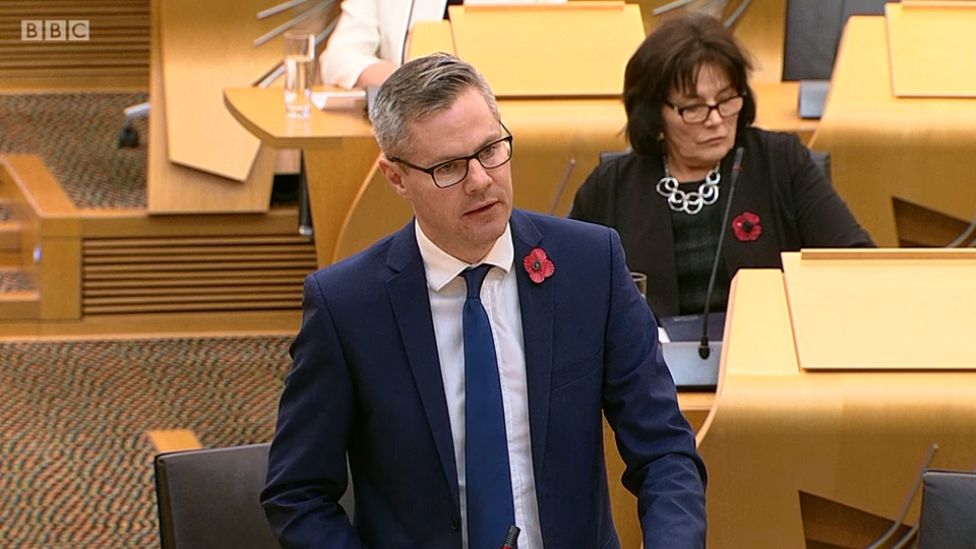 The tone was markedly different, as was the substance. In the Commons yesterday, the Chancellor sought to blend kitchen sink mundanity - those potholes - with lavatorial mock-humour.
Despite the prime minister pinching all his best lines in advance and, from time to time during his delivery, looking as if she had lunched on wasp, the Chancellor was determined to Carry On at his Convenience.
He was emollient, self-deprecating - even, at one point, waving in comradely fashion towards Labour's John McDonnell whom he had gently lampooned.
By contrast today, the Scottish Finance Secretary Derek Mackay opted for all-out, rumbustious attack. One pitied the foolish wasp who dared to come within his purlieu.
In vain did Opposition Conservatives invite him to welcome the extra £950m in spending for Scotland as a Barnett consequential of Spreadsheet Phil's relative largesse.
It was mince. A broken promise which fell short of expectation. It failed to compensate for past cuts (the Tories dispute that.)
And there was more. The Tories' welfare policies were pernicious. The tax plans mostly rewarded the rich (although the increase in the starting point for income tax will spread gains more widely.)
And more still. You couldn't trust the Tories, especially on tax and spending. But pretty well everyone on the Opposition benches got short shrift.
Mr Mackay was replying to a topical - and decidedly helpful - question from Bruce Crawford, who was previously a notably talented Minister for Parliament. Mr Crawford knows how politics works.
And so he asked for a generic response. Then he turned to benefits - particularly the pension delay affecting women born in the 1950s.
Finally, like a straight man delivering the feed lines, he politely inquired as to whether Mr Mackay had given any consideration to the increase in the threshold for the higher rate of income tax.
And whaddya know? Mr Mackay had indeed given considerable thought to it. He would give his detailed opinion next month when he presented his own draft budget.
But, to use American parlance, his every word and gesture suggested that he thought the Chancellor's plan was a crock.
The Fraser of Allander Institute have done their sums. They base their calculations on the presumption that the Scottish higher rate threshold rises solely in line with inflation. I think that is a sound presumption.
But, in England, that threshold will be at the higher level still of £50k. That, according to the Fraser Institute, would mean folk in Scotland who earned that salary paying £1,100 more than in England.
Quite right too, Mr Mackay would argue - and indeed did so. He wanted, he said, a fairer, more progressive approach than that adopted by Mr Hammond.
Opposition Tories at Holyrood dissent. They say that such a differential, if sustained, could penalise hard-working families here and deter aspirational individuals with skills from moving to Scotland.
An intriguing debate. But, of course, Mr Mackay is under scrutiny from the other end of the political spectrum too. Labour calls his approach to budgetary economics timid.
And the Greens want tax radicalism too. They matter substantially because they are the most likely partners in a putative deal with the Scottish government to ensure the budget passes.
But, in these troubled times, everybody wants a bargain, an incentive. The Tories and the Liberal Democrats say they'll talk to Mr Mackay - but only if he rules out indyref2 for the duration of this parliament.
The chances of that seem remote. The Greens also want a pre-emptive entail placed upon their tentative agreement with Mr Mackay.
They say they won't talk about the details of tax and spending - until they get significant progress towards reform of local government finance, giving more clout to councils.
By contrast with the bluntness of today's remarks at Holyrood, that will require finesse from Mr Mackay. A political gavotte.
What progress would placate? How significant?