Tory MSP Annie Wells faces week-long Holyrood ban over report leak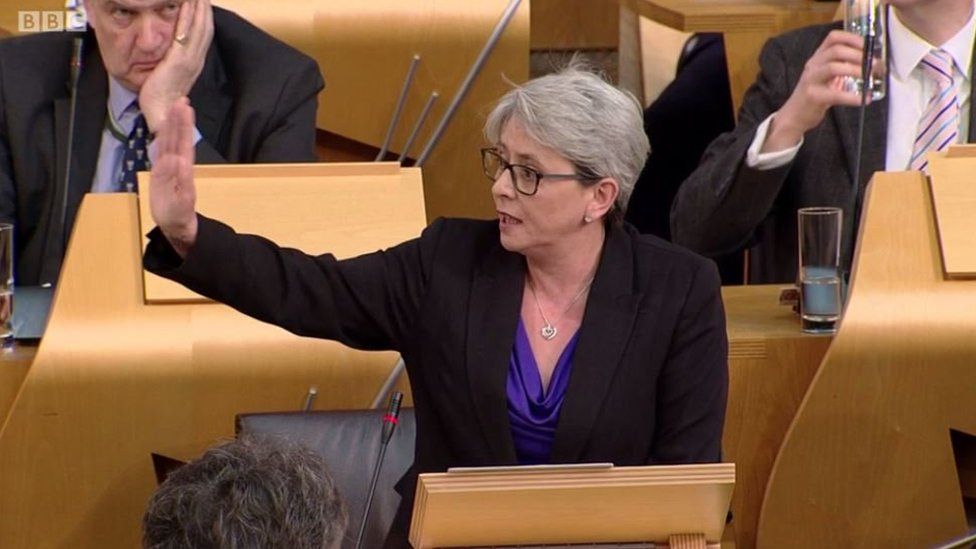 A Scottish Conservative MSP is facing a five-day ban from Holyrood for making "advance comment" on an embargoed committee report.
The parliament's standards committee unanimously ruled that Annie Wells had breached the code of conduct for MSPs.
A complaint was made that the Tory MSP had "sought political advantage" by speaking out about prisoner voting before a report had been published.
MSPs will vote on the proposed ban, which would run from Monday to Friday.
Ms Wells insisted that she was not responsible for the original leak of the report, and said she had only commented on details which were already in the public domain.
The complaint was submitted by SNP MSP Gail Ross after details of a report from the equalities and human rights committee on prisoner voting appeared in a newspaper before it had actually been published.
Standards committee convener Bill Kidd said it unanimously found that Ms Wells had breached three paragraphs of the code of conduct for MSPs "by making public press comment in advance of the publication" of the report.
He said the group "considers that the breaches justify the imposition of sanctions", recommending that she be excluded from all meetings of the parliament and its committees for five days. Ms Wells would still be able to enter the parliament building and use her office, but not attend meetings in an official capacity.
Ms Wells insisted that she was not to blame for the report appearing in the original newspaper story, and had only commented on subsequent stories.
She said: "Numerous media outlets contacted our office seeking comment on a story on the front page of a national newspaper that morning on prisoner voting.
"So I responded to that, as every MSP would, by issuing a statement to them reiterating my opposition to allowing prisoners voting rights.
"My response did not contain details of the report that weren't already known, nor was I responsible for the original leak of the document to the paper, and we still don't know who was.
"Indeed, I did not receive the final report until after it had featured in the national media."
Full details of the complaint and the investigation into it will be published later on Thursday.
The week-long ban has precedent, with former MSPs Mike Pringle and Brian Monteith both having previously served five-day exclusions for leaking.
Independent MSP Mark McDonald was given a month-long ban after the ethical standards watchdog found that an "inappropriate" text message he sent to a woman constituted sexual harassment.
Related Internet Links
The BBC is not responsible for the content of external sites.