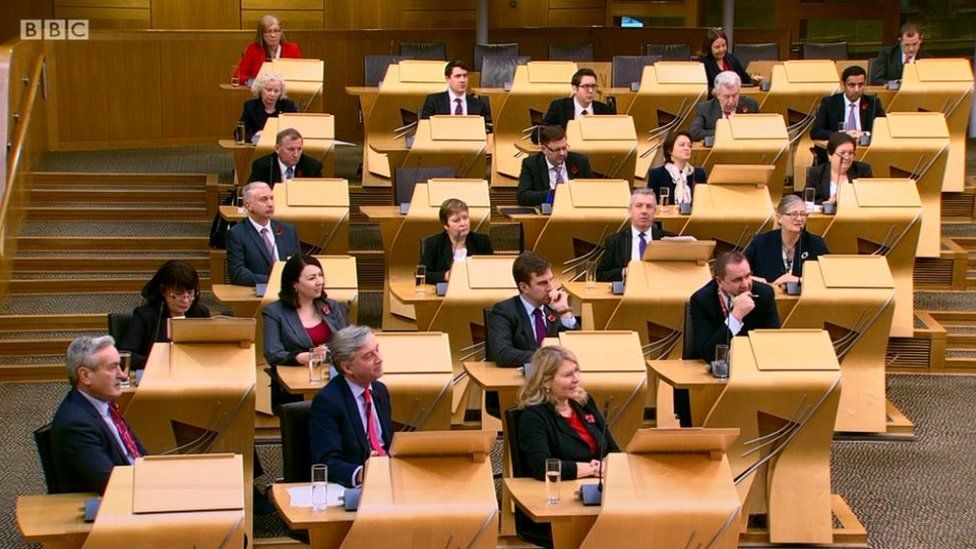 It is known, I believe, as dough-nutting. The practice of orators surrounding themselves with a ring of supporters, who can be counted upon to nod sagely at the appropriate point.
This habit probably dates back to ancient times. I mean, Marcus Tullius Cicero was seldom slack when it came to speechifying.
But even he occasionally resorted to assembling his chums around him to mutter "bene dictum", when appropriate, or to grind their teeth every time Mark Anthony rose to his feet.
But there is an added ingredient in today's doughnut recipe - the all-pervasive influence of television.
Top politicians don't want just any doughnut. They want a tasty confection which appeals to the viewing voters.
So every party - OK, every party with enough elected members - contemplates doughnuts, strategically.
We've seen it in the SNP at Holyrood. Members racing each other to the chamber in order to be there, perspiring but casual, in the background when Nicola Sturgeon faces her weekly question session.
Now it's spread to Labour. There was apparently a full and frank exchange of views among some comrades this afternoon on the topic of seating in the chamber.
I'm told it has been the regular practice in the People's Party to decide which people should sit where, around the leader. There was a routine list of names for the first two rows.
But today, horror of horrors, it seemingly spread to the third row. This was too much. Hence the brief outbreak of warm words.
Eventually, they all settled down to the task of interrogating the first minister. Labour's Richard Leonard - who doesn't have to fight for a chair - raised the topic of student debt.
The SNP, he recalled, had once promised to wipe out student debt. Now, he said, the level of debt was rising.
He made this point at some length. The duration of his question, indeed, was such to prompt Ms Sturgeon to suggest that a university degree course could be completed in a shorter timescale.
Mind you, since some of the first minister's answers were notably prolonged, perhaps it was a little unfair. However, she said that the Scottish system of support for students was easily the best and fairest in these islands.
Earlier, Jackson Carlaw for the Tories had set out to attack the FM over tax. Wasn't it "miserable", he said, that middle earners would end up paying more in Scotland because of the SNP's policies?
And which earners in particular did he have in mind? Why, senior nurses, teachers and police officers.
More appealing perhaps than bankers and financiers - although undoubtedly there are warm, worthy accountants and insurance brokers who are absolute darlings.
Ms Sturgeon was having none of it. The SNP approach was fair and balanced, protecting services for the poor as far as possible while ensuring that the tax burden fell on the shoulders of those able to pay.
It was, overall, a good, robust exchange. A contest both ideological and pragmatic on the subject of how to distribute money and how best to stimulate the economy.
From Patrick Harvie of the Greens, an appeal to treat asylum seekers with empathy and practical support. Ms Sturgeon responded in kind.
And then, finally, an extensive discourse on a deeply serious subject, that of racism and anti-Semitism.
The first minister has just returned from a visit to Auschwitz which, understandably, influenced her perspective, if only to add historical context to her staunch denunciation of contemporary anti-Semitism.
The talk turned to party politics. Gently and with restraint, Labour's Neil Findlay mentioned a controversy affecting some in the West Lothian SNP over responses to an allegedly anti-Semitic online post.
With comparable restraint, Ms Sturgeon said she would make no comment on an internal disciplinary matter, other than to restate her condemnation of racism in all forms.
But she appealed to all parties and all politicians to treat such matters with sensitivity. Such controversies should not, she said, be "weaponised".
At that, they all nodded.