Tory MSPs urge UK government to let asylum seekers work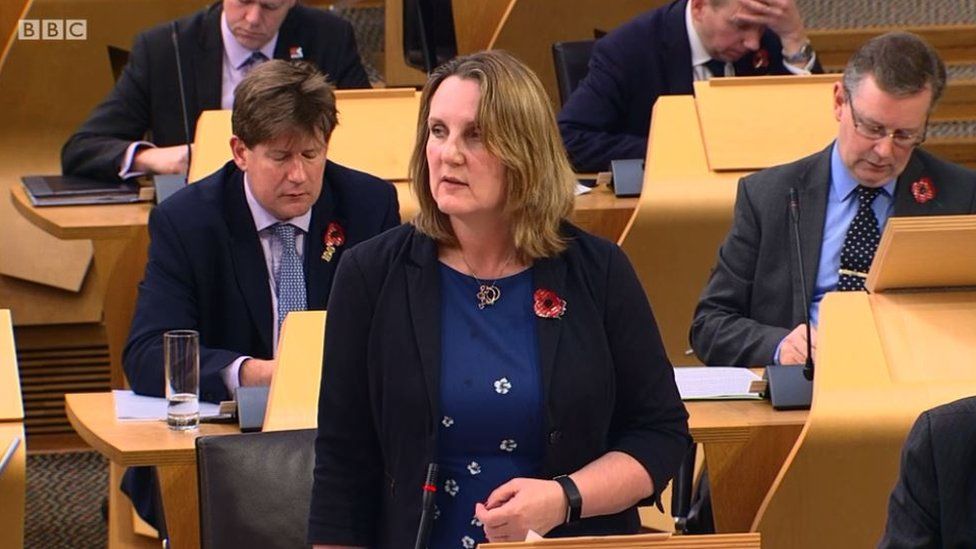 Scottish Conservative MSPs have joined other parties in urging the UK government to let asylum seekers work.
At present, asylum seekers are not normally allowed to work while waiting for their applications to be decided.
MSPs called on ministers to relax the rules and allow them to take jobs.
Tory member Michelle Ballantyne said she had written to the home secretary arguing that those seeking refuge should have the opportunity to make a "meaningful contribution".
The UK government has said it is "listening carefully" to the "complex arguments" on the subject.
Under present rules, asylum seekers are only allowed to work if they have waited more than a year for a decision on their application, and are able to fill a role on the official "shortage occupation" list.
MSPs were debating a motion which called for changes to asylum policy to create a "long term sustainable solution that does not leave people destitute or homeless at the end of the asylum process".
The Scottish Conservatives said they had appealed to the Conservative-run UK government to relax rules to let asylum seekers work.
Ms Ballantyne told MSPs: "During the time that it takes to go through the process of seeking asylum, which can be years, we need to ensure that we don't put people's lives on hold, and we don't waste the skills that people have, or prevent them from developing as people.
"If we don't ensure that asylum seekers have the opportunity to make a meaningful contribution to their own lives, as well as their host nation, we do everyone a disservice.
"While I appreciate that asylum seekers can currently engage in voluntary work, if we really want to ensure that individuals are able to prosper both here, and should they ever wish to return to their countries, the prospect of employment is essential."
The move was welcomed by MSPs from other parties, who were critical of the UK's asylum policy during the Holyrood debate.
Communities Secretary Aileen Campbell said the Scottish government's key principle was one of "integration from day one".
She said: "This means that people should be welcomed and supported to integrate from day one, not just when refugee status and leave to remain have been granted.
"People seeking asylum have to navigate a complex and often frustrating system sometimes over many years before they receive refugee status and are able to get on with their lives.
"That is often at great cost to their mental health and future prospects."
In a debate at Westminster in October, Immigration Minister Caroline Nokes said she was "listening carefully to the complex arguments about permitting asylum seekers to work".
She said there was a "balance to be struck", and that current policy "seeks to protect the resident labour market and ensure that any employment meets our needs for skilled labour".
But she said there was "much merit" in the argument that asylum seekers should be allowed to work, saying she was "receptive to the views and evidence presented to me on the right to work".