Independence-backing congressman stands down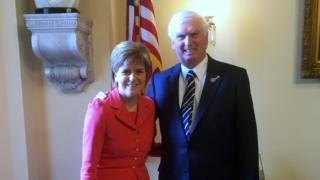 A US congressman has reiterated his support for Scottish independence as he prepares to stand down after 30 years.
John "Jimmy" Duncan was the only high-level US politician to back the Yes campaign in 2014.
The Republican represents Tennessee in the House of Representatives, and claims to have "more Scottish ancestry than any other member of Congress".
The staunch supporter of Donald Trump is not seeking re-election in next week's congressional elections.
Mr Duncan, who is co-chair of the Congressional Friends of Scotland Caucus, said he supports Scottish independence on the condition that the country does not move "too far to the left".
Speaking to the Sunday edition of the BBC's Good Morning Scotland programme, he said his endorsement was born of his love of small-government politics and a desire to bring power "closer to the people".
He said: "I was interviewed by Fox News [before the 2014 referendum] and I said I thought it would be good if Scotland became an independent country as long as they allowed free enterprise and didn't go too far down the socialist path.
"There was an article written in a publication in Tennessee about me one time and they entitled it The Independent Man."
Mr Duncan, has met First Minister Nicola Sturgeon and several other Scottish politicians over the years, and has been a congressman since 1988 - when he succeeded his later father, who had represented the same district since 1964.
He said working with the Friends of Scotland Caucus was one of the most enjoyable things he had done in his three decades as a congressman.
Mr Duncan said: "About 15 years ago they called me from the Scottish section of the British Embassy and said that they had done some research and I had more Scottish ancestry than any other member of congress.
"They wanted to know if I would help to found a Friends of Scotland Caucus. It was a surprise to me when they called but I got a kick out of it."
However, Mr Duncan's right-wing brand of conservative politics might not sit well with many Scottish voters - particularly his endorsement of President Donald Trump - the most famous "Scottish" American politician.
Mr Duncan insisted: "He's done very good on most of the big things. There are a lot of things he's said and done that even his strongest supporters and members of his family wished he hadn't said and done. He's like everyone else, he's not perfect."
Recalling the day he endorsed Mr Trump's candidacy, he said: "He called me at my house and he talked to me for about 20 minutes and my wife wasn't speaking to me for some strange reason.
"I said: 'Mr Trump would you have a moment to speak to my wife?'
"She came downstairs five minutes later and said he was so nice. He told her 'Your husband sounds a lot like me'. And she said 'I know. Good for the country but hell to live with'. Mr Trump got a huge kick out of that."
'Feel at home'
Mr Duncan says he is now looking forward to spending more time with his family after retiring from politics, and denied that his decision not to seek re-election was influenced by a Congressional Ethics Committee investigation into his campaign finances.
He said: "You look at the obituaries every day and I started noticing four or five years ago that half the men were dying younger than me.
"I decided that I had spent enough time waiting at airports and flying on planes and I wanted to spend some time at home with my grandchildren."
Home is Knoxville, Tennessee, which Mr Duncan says looks like and has many historical connections to Scotland.
"People from Scotland would feel very much at home if they ever came to visit East Tennessee," he said.
You can hear the full interview with Mr Duncan on the Sunday edition of the Good Morning Scotland programme on the BBC iplayer.