Scottish minister 'sorry' for Jacob Rees-Mogg 'alien' jibe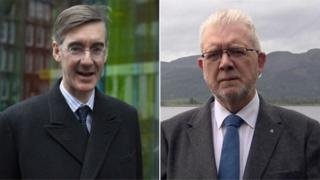 The Scottish government's Brexit secretary has apologised after likening prominent Conservative MP Jacob Rees-Mogg to an "alien invasion".
Mike Russell made the comments during a heated committee session about the UK government's Brexit plans.
While discussing whether a no deal Brexit is more likely than an alien invasion, Mr Russell asked fellow MSPs: "Have you seen Jacob Rees-Mogg?"
He apologised if his "joke misfired" after complaints from Tory MSPs.
Mr Russell was speaking at Holyrood's constitution committee, where he was taking questions about the UK government's draft EU withdrawal arrangement.
Tory MP Murdo Fraser asked Mr Russell if the draft deal was better than the UK leaving the EU without any deal at all.
The minister replied: "When it comes to a choice between this or alien invasion, this is better. But the reality of the situation is that both are very bad."
After Mr Fraser observed that "an alien invasion is slightly less likely than a no deal Brexit", Mr Russell replied: "I don't know, have you seen Jacob Rees-Mogg?"
Mr Rees-Mogg, the MP for North East Somerset, is a leading Brexiteer and is also a critic of the UK government's draft deal.
Another Conservative MSP, Adam Tomkins, then told the minister that he should refer to fellow parliamentarians with "dignity and respect".
He said: "I have my quarrels with Jacob Rees-Mogg too, but describing him in the context of an alien invasion is a remark which - and I know it was a rush of blood to the head, cabinet secretary - was frankly was beneath you."
Mr Russell said: "My blood didn't rush to my head, but if my joke misfired in any sense, then of course I am sorry about that."
After Mr Tomkins said he was sure Mr Rees-Mogg would "appreciate the apology", Mr Russell murmured: "Such as it was."
The minister used the session to reiterate the Scottish government's opposition both to the UK government's plans and the idea of a no deal Brexit, insisting that alternative deal was a "very realistic" outcome.