MSP cleared of breaching code over 'foolish' lobbying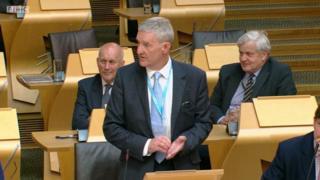 A Conservative MSP who quit his party's front bench after lobbying for a co-op he had shares in has been cleared of breaching Holyrood's code of conduct.
Peter Chapman said he was "foolish" to contact Aberdeenshire councillors on behalf of Aberdeen and Northern Marts Group when it was looking to expand.
A complaint was subsequently made to the parliament's standards committee.
But members unanimously concluded there was "no evidence" that Mr Chapman's actions "amounted to paid advocacy".
They said he had lobbied for the farming group in his role as an MSP, but will not face any punishment.
Mr Chapman owns 50,000 shares in ANM, which is seeking to expand its mart at the Thainstone Business Centre in Inverurie.
The MSP contacted several Aberdeenshire councillors asking them to back the planning application, but said he made an "honest mistake" by failing to declare that he had an interest in the case.
Mr Chapman did not stand to gain financially from the expansion, as his investment in the co-op is not linked to its performance, but quit his post as rural affairs spokesman saying he had "failed to maintain high standards of transparency".
After a complaint was made to Holyrood's standards committee, the commissioner for ethical standards in public life investigated the case.
Both the commissioner and the committee found that there was "no evidence to suggest that Peter Chapman's actions amounted to paid advocacy", which would have been a breach of the code of conduct for MSPs.
Committee convener Bill Kidd said: "While the member did advocate on behalf of ANM Group in his capacity as an MSP, we agree with the commissioner that there is no evidence to demonstrate that Peter Chapman - whose shares in ANM Group are of a fixed value - agreed to act on behalf of ANM Group in return for, or in expectation of, receiving a payment or benefit in kind from them.
"In addition, there was no evidence of a connection between the member's action and the level of interest due to him in respect of his shareholding."