Commons keepy-uppy 'sent positive message'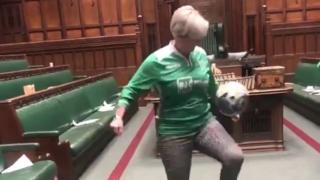 An SNP MP who played keepy-uppy in the House of Commons has said she hopes it helps raise awareness of women's sport.
Hannah Bardell and four other MPs were photographed wearing their UK Women's Parliamentary Football Club tops in the Commons chamber on Tuesday evening.
Ms Bardell also tweeted a video of herself doing keepy-uppies with a ball.
The MPs were rebuked by the Speaker - but Ms Bardell said she hoped the incident had been taken in the spirit it was intended.
The women's team had been due to play its first match against Crawley Old Girls on Tuesday - but the fixture was cancelled because it was going to clash with votes in parliament.
Speaking to BBC Breakfast, Ms Bardell said the team is a cross-party group of MPs, journalists and Commons staff, which she hoped would show that politics can be consensual behind the scenes despite the divisions over Brexit.
The Livingston MP added: "Yes I did a few keeppy-uppys, but what has been incredible is the attention that it's got.
"Let's not forget only 7% of sports coverage covers women's sport, so it would just be nice if we could get as much coverage for women's sport as my keepy-uppys seem to have attracted."
Ms Bardell also said the House of Commons was a "very masculine environment" where people mostly see "male members shouting and braying at each other".
She said: "It's not a very edifying sight, it's not a very positive sight, and what has been fantastic is the response we've had from women's football teams, girls' football teams and across the political divided.
"There are lots of rules and regulations in the House of Commons and it can be a bit imposing sometimes, so this was something light-hearted and positive that hopefully has shown the Commons in a different light."
Ms Bardell said the women's parliamentary team was born out of "frustration" at there only being a men's team - membership of which was often seen as a way of "getting on" in politics.
She said: "I think that old mentality of men doing business in their clubs and their groups needs to be broken down, and as a women's team we want to play with the men's team in charity matches.
"I think this is about sending a message to say that, at a time when there's a lot of division over Brexit, behind the scenes politics can actually be quite consensual and that's really, really important."