Shaun's Law: Changes made to 'barbaric' post-mortem rule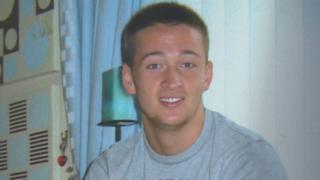 New rules on post-mortem examinations have been introduced in Scotland in a bid to prevent families facing long waits to bury their loved ones.
The body of anyone who dies in suspicious circumstances is only released to relatives after a post-mortem is carried out.
But defence lawyers have also been able to request their own examination - which can cause considerable delays.
Multiple post-mortems will now only be allowed if absolutely necessary.
The updated code of practice for forensic pathologists has been issued by Lord Advocate James Wollfe following a review of the previous guidelines.
The review was launched after relatives of Shaun Woodburn, who was killed in Edinburgh in the early hours of New Year's Day in 2017, spoke of the "barbaric" treatment they faced while waiting to be allowed to bury him.
The sister of murder victim, Paul Mathieson, later told BBC Scotland how his family had been forced to endure "five months of hell" before Mr Mathieson's body was returned to them.
Mr Mathieson, 37, died after being attacked in Renfrew in January.
In a letter to Labour MSP Kezia Dugdale, who has been campaigning alongside the families, Lord Wolffe said the review had concluded that a second post-mortem examination was of "limited evidential value" in all but "exceptional" cases.
He said it was instead preferable for post-mortem evidence to be challenged by a defence pathologist's examination of the findings, rather than through a second invasive examination being carried out.
In practice, it means that defence lawyers will need to explain why they want to conduct a second post-mortem examination and what they think it will add to their case, rather than automatically having the right to carry one out.
The guidelines also commit the Crown to ensuring no body is kept for more than four weeks unless it is absolutely necessary.
Mr Woodburn's father, Kevin Woodburn, welcomed the announcement - which he said was a "major step forward" and a sign that "common sense has prevailed".
Speaking after meeting Justice Secretary Humza Yousaf at Holyrood, Mr Woodburn added: "We were 18 days (before Sean's body was released) which at the time was horrendous for us, but there's a lot of other people who've suffered a lot more.
"It has been called Shaun's Law, and to have that going forward as a legacy in his name is just a fantastic thing, not just for us as a family but for his young daughter."
Mr Woodburn has also been campaigning for a victims' commissioner to be created to offer help and advice to people who have been affected by crime as they go through the legal process.
He said he had held "very productive" talks with Mr Yousaf on the issue, and had "come away with an open mind that it's still something that is on the table."
Shaun Woodburn was 30 when he died after being attacked by a teenager outside Gladstone's pub in the Leith area of Edinburgh.
The teenager, who had earlier carried out assaults on other members of the public, was sentenced to four years' detention after being convicted of culpable homicide.