Holyrood staff 'less likely to come forward' over harassment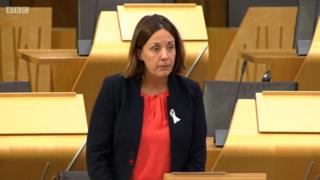 Victims of sexual harassment at the Scottish Parliament are less likely to come forward now than they were a year ago, an MSP has claimed.
Kezia Dugdale said it had not been "a particularly proud year" at Holyrood when it came to harassment procedures.
A survey found that a fifth of staff had experienced sexist behaviour or harassment, and one MSP served a month-long ban from the parliament.
Justice Secretary Humza Yousaf said men must accept that "we are the problem".
In March, a confidential survey of staff at the parliament found that a fifth of respondents - including one in three women - had experienced sexual harassment or sexist behaviour while working at Holyrood.
Of those who reported this, 45% identified the perpetrator as an MSP.
The survey was set up in response to claims of a "catalogue of abuse" at the parliament in the wake of the #MeToo movement and concerns about inappropriate behaviour in politics.
In June, former minister Mark McDonald was suspended from the parliament for a month without pay after he admitted sending an "inappropriate" message to a woman.
The same month, a report from Holyrood's standards committee found that there was a lack of confidence in the way complaints are handled, with MSPs calling for this to be "urgently addressed".
During a debate about gender-based violence, Ms Dugdale said it had not been "a particularly proud year" at the parliament.
The former Scottish Labour leader said she was "very proud" of work being done to create a culture of respect, citing "heroic" efforts by parliamentary officials and staff and the "brave" staff survey.
But the MSP - who sits on the parliament's corporate body management group - said "there is a distance to go to creating a safe reporting environment".
'Personal and professional risks'
She said: "If we were truly honest with ourselves, I suspect we would admit that a woman who has been sexually harassed in this place would be less likely to come forward now than she was a year ago.
"In fairness I think she might be more likely to do so anonymously, but given policies here, and the world over, require victims to share their identity for a fulsome procedure to kick in, I think fewer women would do that now, fully knowing the consequences and experiences of others.
"The personal and professional risks are still far too high for women. It's better to stay quiet and keep your head down, as women have done for decades, as women have done for centuries."
In addition to the confidential survey and a review of the code of conduct for MSPs, the parliament set up a hotline for staff to report concerns, which received nine calls in its first three months.
As employers, each of the political parties represented at Holyrood also have their own procedures for dealing with harassment complaints.
Responding during the debate, Mr Yousaf said that people "should not sit back and condone" the way things are, saying "it simply does not have to be that way at all".
He said: "Harassment is not a problem specific to any one institution, its the responsibility of all society as individuals to take action.
"But as men we have to face up to the fact that we are the problem. Not all of us, by any stretch of the imagination, but men, their behaviour - toxic masculinity - is part of it, we are the problem. But equally we can help to be part of the solution."