Scottish independence: Nicola Sturgeon to give update on indyref2 plans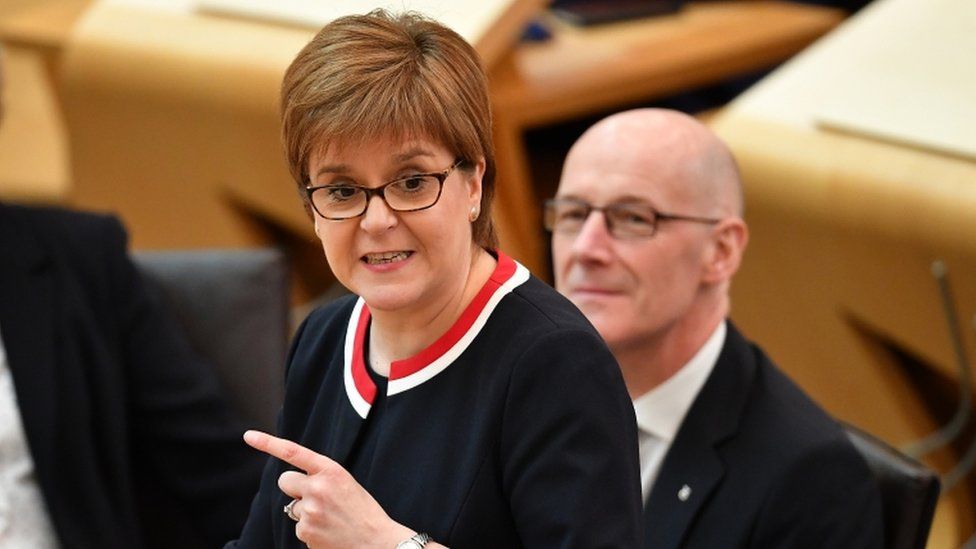 Nicola Sturgeon is to make a statement to Holyrood about the prospect of a second independence referendum.
The half-hour statement on Wednesday afternoon will see the first minister "set out a path forward for Scotland amid the ongoing Brexit confusion at Westminster", her spokesman said.
He also said Ms Sturgeon would "seek to strike an inclusive tone" in the "detailed and substantive" statement.
It comes days before the SNP conference, which opens on Saturday.
Ms Sturgeon updated her Cabinet on her thinking during a meeting on Tuesday morning.
She is said to have been given the approval of her Cabinet colleagues, but no further details of what she will say in her statement have so far been released.
Speaking to the media following the Cabinet meeting, Ms Sturgeon's spokesman said she will "explore some of the issues that have arisen as a result of the ongoing Brexit situation and Scotland's constitutional future".
'Detailed and substantive'
The spokesman added: "It will be a detailed and substantive statement setting out a path forward for Scotland amid the ongoing Brexit confusion at Westminster.
"The first minister will take time to set out her thoughts on that front and in doing so she will seek to strike an inclusive tone."
He also said that Ms Sturgeon had opted to make the statement "at the first available opportunity" since the EU granted a six-month extension to the Article 50 process.
Scottish Conservative MSP Maurice Golden said: "If Nicola Sturgeon wants to give a statement not about schools, the economy or hospitals but about a second independence referendum, then she is making her priorities absolutely clear."
He added: "So let me be equally clear: we want to move on from the SNP's constitutional grandstanding, and get back to the things that matter to the people of Scotland."
Scottish Labour leader Richard Leonard said there was no evidence that people in Scotland want another independence referendum, and that: "The answer to challenges of the UK leaving the EU is not and never will be Scotland leaving the UK.
"Leaving the UK would lead to unprecedented austerity for Scotland's public services. Each currency option the first minister has tried simply makes that worse.
Ms Sturgeon called for a second referendum on independence immediately after UK voted to leave the EU - but shelved the plans after the SNP lost 21 seats at the general election in 2017.
She said in January of this year that she would give an update on her timetable for a referendum within "weeks", but has repeatedly said she needs to wait for more clarity about Brexit before doing so.
Speaking to the BBC's Andrew Marr last month, Ms Sturgeon predicated that it was "as inevitable as it is possible to be" that another independence referendum would be held.
But she said she first needed to know whether the UK will be be leaving with or without a deal, or whether there might be another referendum on EU membership.
She added: "Before I set forward a path for Scotland I think it's reasonable for me to know what the starting point of that journey is going to be and the context in which we are going to be embarking on it."
Prime Minister Theresa May has previously insisted that "now is not the time" for a fresh vote on independence.
And Foreign Secretary Jeremy Hunt said in March that the UK government would "of course" refuse to give its backing to a new vote via a "section 30 order", the transfer of powers to Holyrood which underpinned the 2014 referendum.
Asked what Mrs May's response would be to any call by Ms Sturgeon for a Section 30 order to pave the way for a second independence referendum, her official spokesman said: "You know the prime minister's position on that and it has not changed.
"First and foremost, let's wait and see what the first minister says."
Ms Sturgeon is not thought to have notified Mrs May or Downing Street of her planned statement.