Arrests after climate activists block Edinburgh roads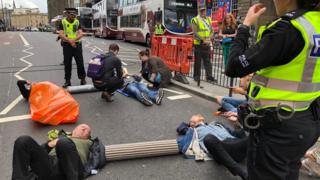 Climate change campaigners have been arrested after closing off several major roads in Edinburgh city centre as part of a week-long protest.
Police said 13 arrests were made in total on Monday, including six people blocked Lothian Road.
Another six activists were arrested in the Lothian Road area. A thirteenth person was arrested on High Street.
The road blocks are part of "direct action" by Extinction Rebellion Scotland.
Activists from the group are camped outside the Scottish Parliament ahead of MSPs discussing the Climate Change Bill on Tuesday.
North Bridge and George IV Bridge were also affected, with city bus services delayed and diverted. Officers urged motorists to avoid the area.
'Ecological breakdown'
The group say their "Holyrood Rebel Camp" was their "biggest ever gathering" and would remain on the site for the next five days.
They are calling on the Scottish government to do more in response to what they call a "climate crisis and ecological breakdown".
Earlier this year, First Minister Nicola Sturgeon declared a "climate emergency", following weeks of strikes by school pupils and protests by Extinction Rebellion in London and Edinburgh.
A recent report by the Committee on Climate Change recommended the UK should aim to be net-zero by 2050, with Scotland proposing a target for doing so five years earlier.
Extinction Rebellion say taking this long to reach net-zero would be "ecocide", and want this to be added to the Climate Change Bill at Holyrood during this week's committee-level debate.
The group blocked a number of roads in Edinburgh city centre at the beginning of rush hour on Tuesday, causing major disruption to traffic.
Lothian Buses said there were "long delays throughout the city" after activists lay down on Lothian Road with their arms chained together.
One protestor, 32-year-old Malcolm White, said: "We're blocking traffic and disrupting people's daily lives because we are so afraid of the consequences of the climate emergency and the fact that the government is not taking nearly enough action.
"Their commitment to 2045 is unfortunately ecocide, it is going to be completely inadequate and it relies on technologies which are not prepared, they're not up to scale, and some of them don't even exist yet.
"Whereas actually, we really need to change the system that we live in and work in, in order to make it a more ecologically friendly and more just society."
On June 4, five activists from the group with locks around their necks were attached to the parliament building, with the means of freeing them sent to the leaders of the SNP, Conservatives, Labour, the Scottish Greens and the Liberal Democrats.