Election 2019: Nicola Sturgeon 'ready' to take on Tories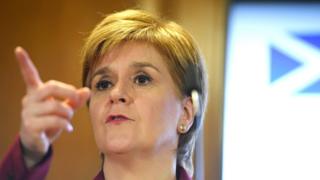 Nicola Sturgeon has said the SNP are "ready" to take on the Conservatives in the face of an election next month.
The first minister is expected to hit the campaign trail after MPs voted in favour of going to the polls on 12 December.
The bill is still to be approved by the Lords but could become law by the end of the week.
Ian Blackford, the party's Westminster leader, earlier said the SNP would beat the Tories in Scotland.
Ms Sturgeon will join Alyn Smith, the SNP's candidate for Stirling, on the campaign trail on Wednesday.
Speaking ahead of her visit she said: "The SNP is ready for an election. We stand ready to take the fight to the Tories, to bring down this undemocratic government, and give Scotland the chance to escape from Brexit and decide our own future.
"Scotland has been ignored and treated with contempt by Westminster, and this election is an opportunity to bring that to an end.
"A win for the SNP will be an unequivocal and irresistible demand for Scotland's right to choose our own future."
'Most important' vote
Jackson Carlaw MSP, interim leader of the Scottish Conservatives, claimed voting for his party would keep Scotland in the UK.
He tweeted: "The choice for voters is this. Vote ScotTories to end the division and keep Scotland in the UK.
"A vote for anyone else risks Nicola Sturgeon winning and pushing ever harder for her unwanted and damaging independence referendum. We are ready and we are determined. #GE19"
The Scottish Greens said they would contest several seats, adding that the election would be "the most important one we've ever faced".
Co-leader Lorna Slater said: "We have just 10 years left to prevent climate breakdown, but Westminster has been taken over by an authoritarian Tory government obsessed with forcing a disastrous Brexit on the country and doubling down on their climate-wrecking policies.
"Instead of tackling the greatest risk to human life in history, the main parties at Westminster lurch from one crisis of their own making to another, which is why it is more important than ever that we have Green voices in there who are committed to a Scottish Green New Deal, stopping Brexit and building a new progressive future for Scotland."
How it unfolded
By a margin of 438 votes to 20, the Commons approved legislation paving the way for the first December election since 1923.
The one-page bill needed the support of only a simple majority of MPs in the House of Commons, rather than the two thirds majority required under the Fixed Term Parliaments Act.
Ahead of the vote, Downing Street sources said they would accept an election on 11 December if it was needed to win the support of opposition parties.
Labour leader Jeremy Corbyn confirmed his party would back an election on 9 December despite several opinion polls suggesting his party currently trails the Conservatives.
The SNP and Liberal Democrats also called for a 9 December election, which they said would prevent the prime minister from pushing his Brexit plan through Parliament ahead of the vote.
However, Labour's amendment to hold an election on 9 December was rejected and MPs voted to back the government's original bill - for an election on 12 December.
There is some unease in both parties over holding an election in December, with SNP MP Angus MacNeil, warning on Monday that it could hand Boris Johnson a majority and give him the power to block any request to hold a second Scottish independence referendum.
This would be like handing Mr Johnson his birthday and Christmas present at the same time, Mr MacNeil claimed.
But speaking to the BBC's Good Morning Scotland programme on Tuesday, Mr Blackford said he did not accept his colleague's view that a general election was likely to hand Mr Johnson the keys to Downing Street for another five years, and open the possibility of the UK leaving the EU without a deal.
Mr Blackford said the SNP "want to see Boris Johnson defeated and out of Number 10", and that an election would allow opposition parties to show that "what the prime minister wants to do is damaging, economically, socially and culturally".
Mr Blackford argued last week that it would be "barking mad" to ask people to vote in December, when his own Ross, Skye and Lochaber constituency will have very few hours of daylight.
But he predicted on Tuesday that people will still come out to vote, and that "we are going to have to accept our responsibilities" because "we have to resolve the situation".
---
Do you have any questions about the latest political developments?
In some cases your question will be published, displaying your name and location as you provide it, unless you state otherwise. Your contact details will never be published. Please ensure you have read the terms and conditions.
Use this form to ask your question: