SNP MPs accused of 'stunt' over English-only NHS vote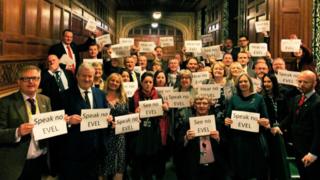 SNP MPs have been been accused of a parliamentary "stunt" after they were blocked from voting on an "English-only" bill about the NHS.
Convention in the Commons has meant MPs from Scotland, Wales and Northern Ireland have not had a say on bills deemed to apply only in England.
However, the SNP's Westminster leader Ian Blackford said the bill would have spending implications for Scotland.
Conservative Michael Gove said the move was a stunt to "manufacture grievance".
The draft bill falls under the English votes for English laws (Evel) convention.
'Geographically situated'
It was created in response to devolution where bodies such as the Scottish Parliament control areas including health and education for those living in Scotland.
During Tuesday's vote in the House of Commons, SNP MPs voted against UK government plans for the NHS in England by walking through the voting lobbies with the opposition.
But Commons deputy speaker Dame Eleanor Lang ruled members did not have a right to vote if their constituencies were not in England.
She added: "Members who do not represent constituencies geographically situated in England do not have a right to vote in these particular divisions."
SNP MP Pete Wishart tweeted a picture of the group holding See no Evel, Hear no Evel and Speak no Evel signs.
Mr Wishart - who chairs the Scottish affairs select committee - said: "Today we are witnesses a huge ramping up of English Votes for English Laws (Evel).
"Their NHS funding bill will have impacts on Barnett Consequentials in Scotland, affecting health spending here, yet we can not move any amendment or vote on any tabled. An absolute disgrace."
Following the vote, Conservative Cabinet minister Michael Gove said: "Until the Scottish government makes sure that the health of the people of Scotland is looked after, the people of Scotland will regard this as a transparent stunt by people who instead of representing their constituents seek to manufacture grievance."
---
What is the Barnett formula?
For 42 years, public spending across England, Northern Ireland, Scotland and Wales has been based around something called the Barnett formula.
In principle, the way this works is extremely simple.
When the UK government decides to spend more or less on things such as health and education in England, the Barnett formula is used to decide how much money the other nations receive.
For example, if health spending increases by £100 per person in England, the devolved governments should receive the equivalent amount.
This exact amount is based on the size of their population.
However, the devolved governments are free to spend any extra money on whatever they want. Funding doesn't have to go on health just because the money went on health in England.
As well as population, the size of the grant will also be affected by the level of responsibility the devolved governments have for different policy areas. For example, the Welsh Government does not have responsibility for police funding, so its grant is not affected by changes in this area.
The formula is named after its inventor, the former Labour Chief Secretary to the Treasury Joel Barnett. He devised it in 1978 when he was a member of the government of James Callaghan.
It has no legal status and is merely a convention used by the Treasury.