School pupils' exam performance falls by up to 10%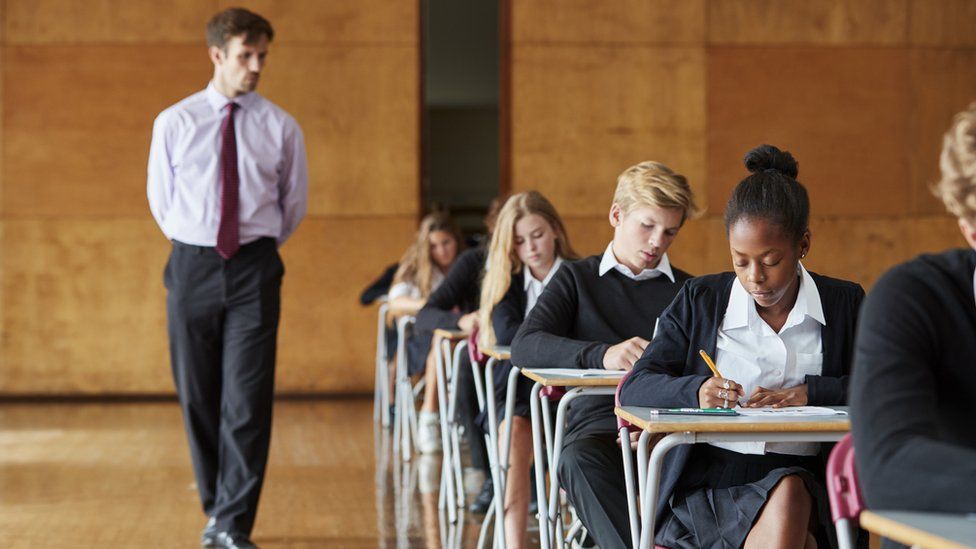 Opposition parties have criticised the Scottish government after an official report revealed a decline in the exam performance of school pupils.
The analysis was posted on the government's website at 20:00 on Thursday.
It reveals that the number of students achieving passes in core Higher subjects dropped significantly in 2019, in some cases by as much as 10%.
The Conservatives said there were "clearly major problems" in education.
Education Secretary John Swinney said the government "regularly monitors and analyses performance to inform decision-making".
He denied that the government was trying to "sneak out the report" and insisted it was fulfilling "commitments we had made to parliament".
Mr Swinney told BBC Radio's Good Morning Scotland programme: "We had a Freedom of Information request that had to be responded to.
"We felt it was appropriate (to release the exams report at the same time) because so much of that material was included in the report that I had promised we would publish."
The Freedom of Information request was made by a lecturer and former school teacher.
The timing of its release led to ministers being accused of a "snide and cynical" attempt to avoid scrutiny of its record on education.
Opposition parties said the figures highlighted a "worrying decline" in pupils' exam performance.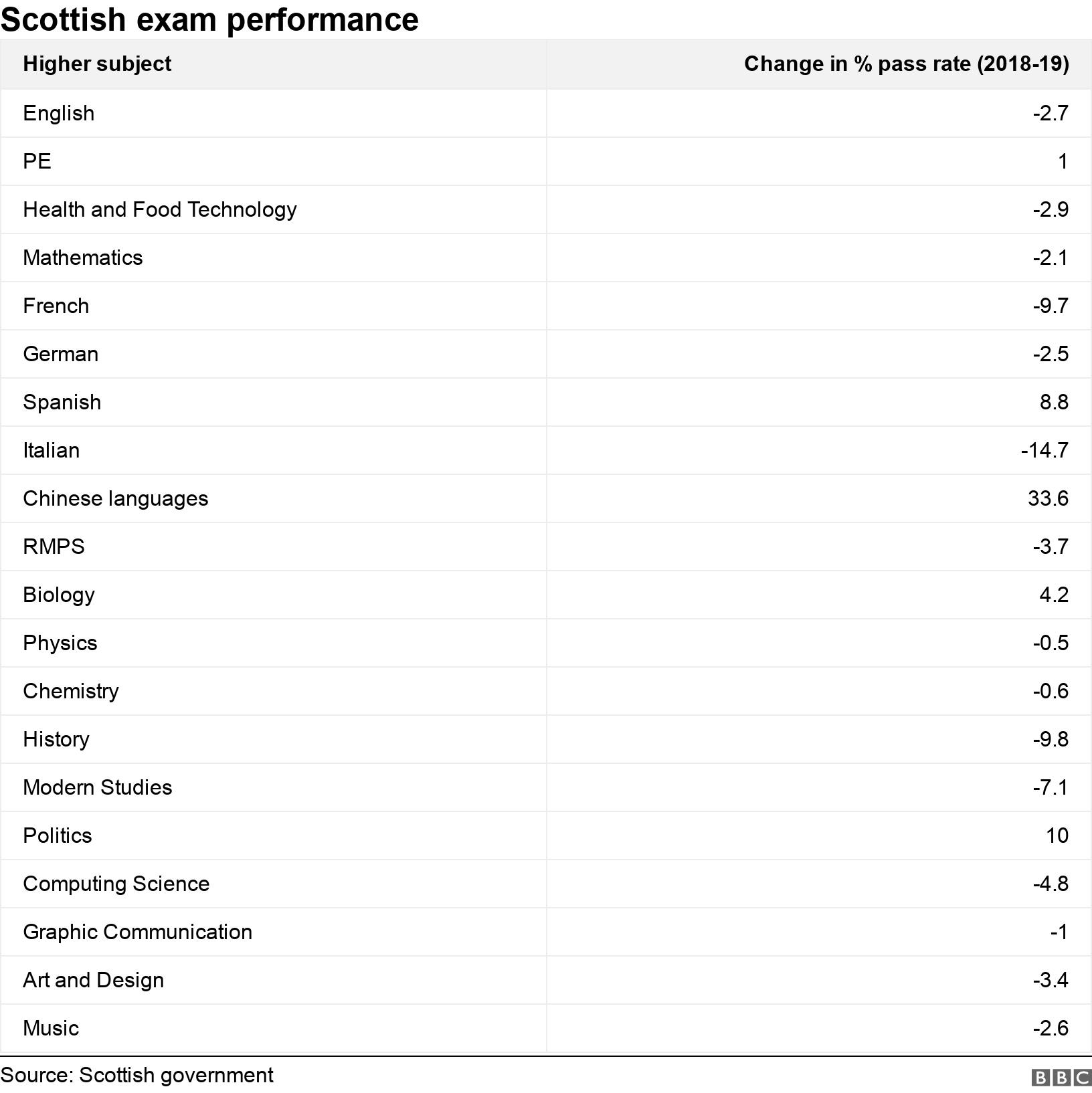 Scottish Conservative education spokesman Jamie Greene said: "This is a snide and cynical move by an SNP government which is increasingly in crisis across all of Scotland's public services.
"There are clearly major and systematic problems within our education system that the SNP simply refuses to acknowledge or take action on.
"John Swinney insisted there were no issues concerning the drop in pass rates, but this snuck-out report proves him wrong."
The drop in the numbers passing some key Highers begs important questions.
The rate of the fall in some of the most important subjects is far greater than the headline fall in the number of Higher passes overall.
But it is important not to jump to conclusions about what may be to blame.
There are a number of possible contributory factors.
There may be questions over how well prepared some young people are for their Higher courses.
Did their education in S1-S3 and their National 5 courses provide an appropriate bedrock?
Might the practice of teaching Nat 5 and Higher classes together in some schools have been a factor?
Could there sometimes be issues with resourcing or specific shortages of teachers?
But not all of the possible explanations are necessarily worrying.
Could some schools or teachers be encouraging more borderline candidates to attempt a Higher?
It is unlikely, though, that the exams system will be the reason for the drop.
The SQA adjusts pass marks and grade boundaries every year to allow for exams being a little easier or harder than anticipated.
1,515 fewer pupils passed their Higher English exam
This was a reduction of 5.5% on the previous year and the lowest number since 2014
Passes dropped by 8.8% (178 students) for those sitting Advanced Higher exams in the subject
Higher maths saw the pass rate fall by 2.1% - the first decline since 2014
Higher history pass rates plunged by 14.6% overall and by 10% in A-C grades
Advanced Higher maths saw the number of passes increase by 1.6%
Passes in the sciences were up 1.6% at a Higher level
Those sitting the subjects at Advanced Higher - not including human biology - saw the number of passes fall by 14.1% (there was a 13% reduction in those sitting the tests)
Speaking after the publication of the report, Mr Swinney said the Scottish government regularly monitored and analysed performance to inform decision-making.
"Taken together, this analysis demonstrates good progress in a number of areas and that it is challenging to identify significant drivers of change or to draw firm conclusions about some subjects due to small numbers of entries," he said.
"The analysis has, however, identified areas that justify further exploration and highlight actions that have been agreed.
"My key areas of focus are to ensure that curriculum and assessment are aligned, how to better support professional learning and development, and maintaining a clear focus on enhancing learning and teaching."
Larry Flanagan, general secretary of the EIS teaching union, said it was important to look at the wider context "including such variables as different pupil cohorts in each year" and to "balance dips against improvements in some qualifications and at various levels of presentation".
He added: "Focusing solely on Higher passes alone, for example, is an unhealthy and unhelpful fixation. The EIS would like to see an evaluation of the impact of longer exams on pupil performance but overall we believe that schools and teachers deliver well for students, especially in a period of ongoing austerity and budget cuts."
SNP members opposed the move in the vote, but Ms Sturgeon said she would "abide by the decision of parliament".
The motion passed also said there were "key weaknesses in some key aspects of Scotland's school education" system.