Former leader Lord Steel quits Liberal Democrats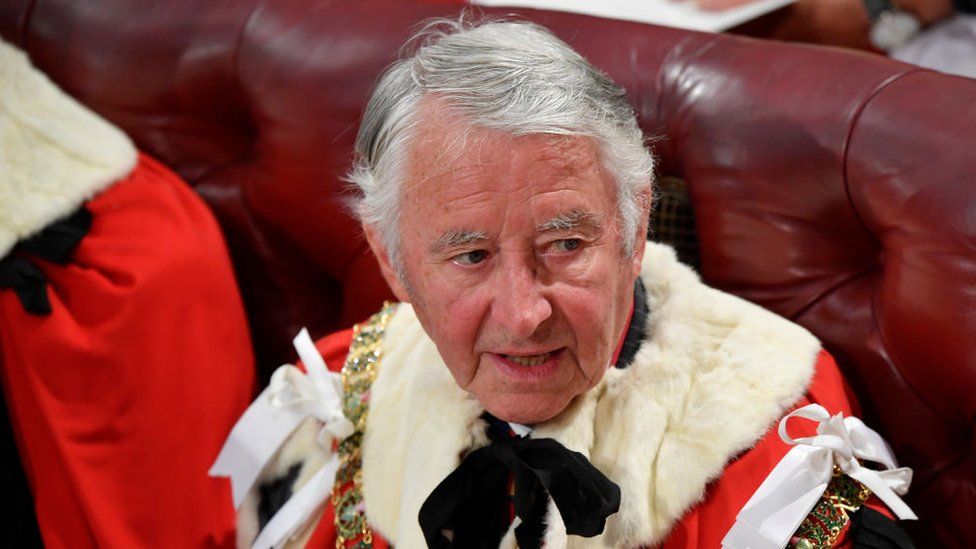 Former Liberal Democrat leader David Steel has quit the party and the Lords after an inquiry said he "turned a blind eye" to claims of child abuse.
The Independent Inquiry into Child Sexual Abuse criticised political groups for not acting on complaints.
It accused Lord Steel of an "abdication of responsibility" over accusations against the late MP Cyril Smith.
Lord Steel said he was quitting because he wanted to avoid "distress" for his family and "turmoil" for his party.
The former MP and MSP also said he was being made "a proxy for Cyril Smith", the former Rochdale MP who was investigated over allegations about the abuse of teenage boys in 1969.
Lord Steel had told the inquiry that he was made aware of the allegations against Smith 10 years later and "assumed" they were true, but said they were "nothing to do with me" because they predated Smith's time in parliament.
It said Lord Steel was "an example of a highly placed politician turning a blind eye to something that was potentially troublesome to his party, with no apparent regard for criminal acts which might have occurred or for any victims, past or future".
The inquiry heard that complaints about Smith abusing boys were investigated by the police in the 1960s, while he was serving as a Labour councillor, but no prosecution was brought.
He was elected as a Liberal MP in 1972, and Lord Steel said he had discussed the allegations with him in 1979 after an article appeared in Private Eye.
The peer told the inquiry that he "assumed" that Smith had committed the offences, but took no further action because "it was before he was an MP, before he was even a member of my party - it had nothing to do with me".
The inquiry's report said that "this failure to recognise the risk that Cyril Smith potentially posed to children was an abdication of responsibility by a political leader".
But the politician responded that "at no point did Cyril Smith admit to me the truth of the allegations in the Private Eye report", and said he was "never a friend of mine".
He said: "Nowhere do IICSA explain what powers I was supposed to possess to investigate 14-year-old allegations against someone who at the time of the actions alleged was not even a member of my party, that the police and successive prosecutors reviewed with access to all files."
The former Holyrood presiding officer was suspended and investigated by the Lib Dems after his appearance before the inquiry in 2019, but was ultimately reinstated.
The 81-year-old said he understood some in the party wanted him suspended again, while others had threatened to resign if he was subject to a new investigation.
He said: "I wish to avoid any such turmoil in my party and to prevent further distress to my family. I have therefore thanked my local party secretary for their stalwart support through the whole inquiry process, and have informed the local party that my resignation is with immediate effect."
Scottish Lib Dem leader Willie Rennie said the "powerful report" had lessons for everyone, and that it was "right that David Steel has decided to resign from the Liberal Democrats and retire from public life".
David Steel was first elected as MP for Roxburgh, Selkirk and Peebles in 1965, and represented the area at Westminster for more than 30 years.
He became Liberal Party leader in 1976, aged 38, and was in post during the party's 1988 merger with the Social Democratic Party to form the Liberal Democrats.
He retired from the Commons in 1997, and was made a life peer as Baron Steel of Aikwood.
Lord Steel campaigned for Scottish devolution, and entered the newly formed Scottish Parliament as a Lib Dem member for the Lothians region in 1999.
He subsequently became the first presiding officer of the parliament, before stepping down as an MSP in 2003.