Coronavirus: Scottish schools aim to reopen full-time in August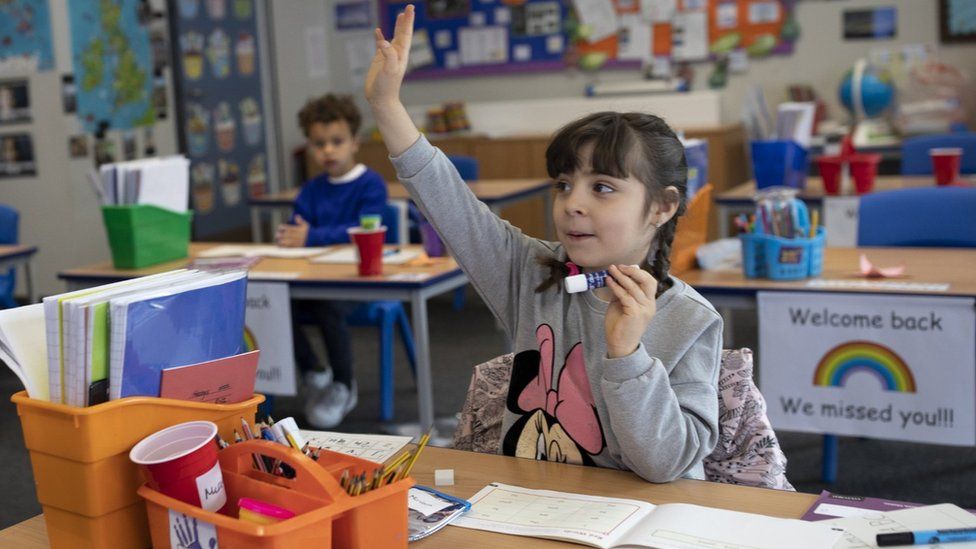 Scottish schools are aiming to reopen full-time with no physical distancing in August if coronavirus continues to be suppressed, John Swinney has said.
Schools had been preparing to return with a "blended" model of face-to-face teaching and at-home learning.
But the education secretary said "significant progress" had been made in controlling the spread of the virus.
Mr Swinney said ministers were now preparing for all schools to open full-time in August.
He had previously targeted having pupils spend at least half their time physically in the classroom, leading to concerns from parents.
Opposition parties said the move was a "u-turn" and a "climbdown" which had been forced by public pressure.
And union bosses said other measures would need to be put in place to keep staff and pupils safe, such as the use of face coverings and routine testing of teachers.
Schools have faced difficulty in working out how to bring pupils back in August while maintaining the current 2m (6ft 6in) physical distancing rule, leading to the blended learning plans.
Mr Swinney said the blended learning plan was a "necessary" contingency plan, drawn up a time when the outlook was "bleak" - but that "the picture looks more positive" now.
He said: "When we prepared our plans back in May I frankly would not have imagined we would have made as much progress in virus suppression as we have.
"It is this more positive outlook that allows the Scottish government to make this change in planning for schools."
'I was having to consider quitting work under blended learning'
Penni Brown from Edinburgh is "so unbelievably relieved" that the Scottish government is now planning to have all schools back full-time from August.
She has five children, two of them dyslexic, and she had to give them a lot of support as online learning was too much for them.
She told BBC Scotland: "I was having to consider resigning from work under blended learning, as with five kids they would all be at school at different times. I felt passionately enough about it to fight for all of Scotland's children, not just my own.
"I don't believe the science justifies "blended learning" or social distancing amongst children. I think it may be suitable for teachers to remain socially distanced while allowing children to interact normally.
"My heart was breaking for only children and parents of special needs kids as well as many vulnerable families for whom this is pushing them over the edge."
Mr Swinney said full time schooling for all pupils was "the aim the government is now working towards", with no physical distancing rules to be enforced in classrooms.
However, he stressed that this was strictly conditional on Covid-19 continuing to be suppressed and "stringent" safety measures being put in place for staff and pupils.
And he said that blended learning may still have to be implemented if infection rates rise again, warning that "there are no certainties with this virus".
The education secretary also announced an extra £100m of funding over two years to help children return to school and "recover any lost ground".
And he said £30m would be spent on laptops for the 70,000 most disadvantaged pupils, amid concerns about the impact of home learning on the attainment gap.
Just last Sunday, John Swinney said it was "unlikely" schools would return to normal within the coming school year.
Today, he has told MSPs that they could return to normal - or something far more akin to it, with no physical distancing at all - within seven weeks.
So in a little over a week there has been a remarkable change of tack from the government.
It has certainly been enabled by the progress made in suppressing coronavirus, but a key factor will also have been the increasingly vocal concerns of parents - who during that same week were receiving letters from schools underscoring the reality of the "blended" learning model.
But for all the opposition talk of u-turns and climbdowns, what those parents will ultimately care about is what is actually delivered in classrooms come August.
If Mr Swinney's vision of a return to normality can be delivered, the politics around it may largely be forgotten.
Council umbrella body Cosla said the statement from Mr Swinney was "a significant change in direction".
Spokesman Stephen McCabe said local authorities would "work with the Scottish government, trade unions, parent organisations and children and young people representatives to consider the implications and practicalities of a full time return for pupils in August".
The EIS union said "a great deal of work at school level has already gone into planning for a blended learning model" and that there would need to be "time to adjust plans and conduct revised risk assessments".
General secretary Larry Flanagan said there needed to be "appropriate mitigations" to protect staff and pupils, such as the use of face coverings, "proactive" testing of teachers and physical distancing between pupils and staff.
While opposition parties broadly welcomed the move, they were critical of the government's handling of the issue.
The Scottish Conservatives said the "screeching u-turn" had been forced on the government by "relentless campaigning from all quarters" and an "outburst of anger from parents".
Education spokesman Jamie Greene said: "The sad truth is that until now, recent events have exposed nothing but a complete vacuum of leadership in the handling of this issue."
Scottish Labour accused Mr Swinney of "the mother and father of all ministerial climb-downs", with education spokesman Iain Gray saying the government had produced "a completely new plan at the last possible moment".