Nicola Sturgeon 'has nothing to hide' over Alex Salmond inquiry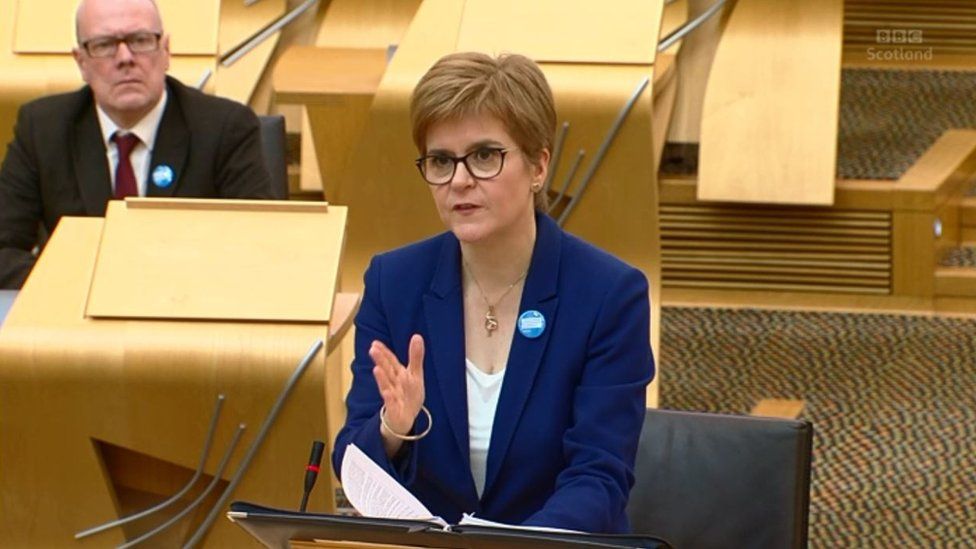 Nicola Sturgeon has insisted she has "nothing whatsoever to hide" over Holyrood's Alex Salmond inquiry.
MSPs are looking into the government's botched handling of complaints against the former first minister.
Ms Sturgeon said in written evidence that she forgot about a meeting where she believes she was told about the complaints against her predecessor.
Tory group leader Ruth Davidson said Ms Sturgeon's "sudden memory loss" was "beyond belief".
Speaking during first minister's questions, she said Ms Sturgeon's explanation "does not bear the lightest scrutiny".
She claimed Ms Sturgeon had "misled parliament" over when she had first learned of the complaints against Mr Salmond.
And she suggested that Ms Sturgeon had done so because she knew she had broken the ministerial code by not having the meeting with Geoff Aberdein - a former aide to Mr Salmond - minuted.
Ms Sturgeon replied that she understood why people "raise an eyebrow" at her initially forgetting about the meeting.
But she said it had been overshadowed in her memory by a later meeting with Mr Salmond.
She said: "There is something seared on my memory, it is the meeting that took place when Alex Salmond himself sat in my own home and gave me the details of the complaints that were made against him and gave me his response to aspects of those complaints.
"That is what is seared in my memory and I think most reasonable people would understand that - if it has somehow overwritten in my mind a more fleeting, opportunistic meeting, that's just how it is."
Ms Sturgeon said she was "pretty shocked and upset" about the meeting with Mr Salmond, and said she was willing to testify about it to the Holyrood inquiry under oath.
Ms Sturgeon added: "I have nothing to hide in this, nothing whatsoever.
"All sorts of nonsense has been levelled at me on this. I have had two years or more of people making accusations about my conduct - it's not my conduct that sparked any of this.
"I have tried to act in the proper way. If I have made mistakes along the way, I will say that and people can make their judgement."
The first minister had previously told MSPs that the first she learned of harassment complaints against Mr Salmond had been at a meeting with him at her home in Glasgow on 2 April, 2018.
She had insisted she held this meeting in her capacity as SNP leader, not as first minister, meaning no official record had to be taken.
However, in her written evidence to the committee, Ms Sturgeon confirmed she had met Mr Aberdein in her Holyrood office on 29 March.
She said Mr Aberdein had asked her to meet Mr Salmond, and that she believed the conversation "did cover the suggestion that the matter might relate to allegations of a sexual nature".
But she said she "had forgotten this meeting had taken place" because it took place "in the midst of a busy day".
The exchanges at Holyrood took place shortly after the inquiry committee published correspondence from Mr Salmond's lawyers, who claimed the government was trying to have "unlawful" documents produced by the courts - including the report from the original investigation.
The former first minister successfully had the internal investigation declared unlawful after raising a judicial review action at the Court of Session, and won a £500,000 payout for legal costs from the government.
Lawyer David McKie wrote that it was "extraordinary" that the government intended to produce "material that has been reduced as unlawful by court order".
He said: "The only possible explanation for seeking to take such a step appear to our client to be a desire unjustifiably to malign his reputation, rather than account for their own unlawful actions."
Previous inquiry witnesses such as Permanent Secretary Leslie Evans - Scotland's top civil servant - have insisted that the government is not out to "get Alex Salmond", saying that investigating the complaints against him was "the right thing to do".
Ms Sturgeon echoed this at Holyrood, saying: "I understand why it may suit some to say this is some great conspiracy, but I'm not sure why anybody would see this as anything other than complaints being investigated and everybody trying to do the right thing in very difficult circumstances."