Why are more Scots supporting independence?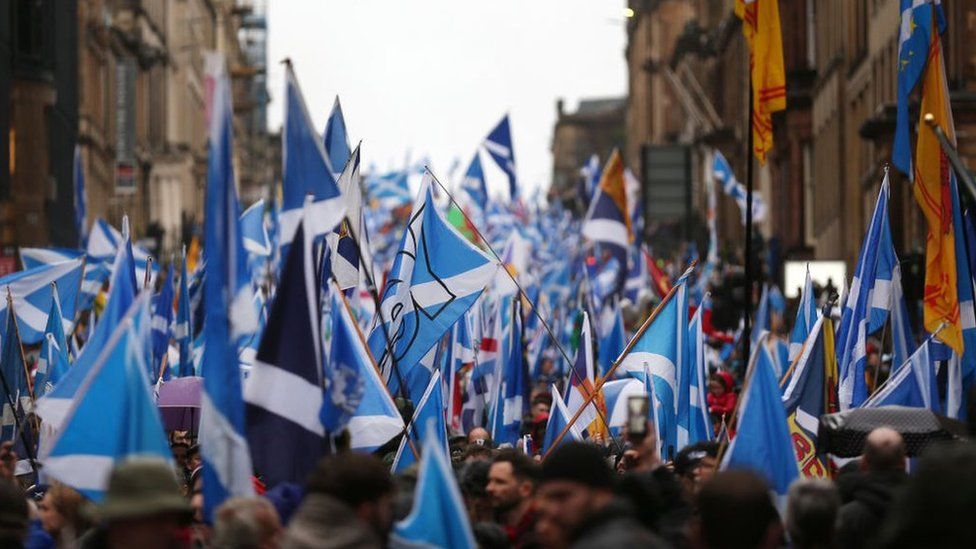 A new poll from Ipsos MORI for STV has suggested that 58% now say that they would vote Yes in another independence referendum. Just 42% state that they would vote No, and thereby back staying in the Union. What conclusions can we draw?
No previous poll has put ever support for independence so high.
More importantly this is the ninth poll in a row since June to put Yes ahead. On average, these polls have put Yes on 54%, No on 46%.
It is the first time in Scottish polling history that support for independence has consistently outstripped backing for staying in the Union.
However, we should be careful about drawing the conclusion from today's poll that support for independence has now risen further.
A poll from Savanta ComRes released over the weekend, the interviewing for which took place at the same time as today's headline grabbing poll from Ipsos MORI, put support for independence at 53%, one point down on the company's previous poll in August.
We will need further evidence before we will know whether the higher level of support for Yes in today's poll represents no more than the kind of random variation that we might expect in the polls given that Yes are well ahead, or whether it signals a further significant shift in favour of independence.
In any event, today's poll provides valuable further clues as to why Yes are now ahead.
First, it confirms that over the course of the last year Nicola Sturgeon's popularity has soared back to the very high level she enjoyed in her early weeks and months as first minister.
As many as 72% say they are satisfied with the way she is doing her job as first minister.
Crucially, her popularity extends deeply into the ranks of those who voted in 2014 to stay in the Union, over half (55%) of whom are satisfied.
In contrast, only 33% of No voters are satisfied with the job that Boris Johnson is doing. It looks highly likely that this contrast has persuaded some former No voters to change sides.
Second, younger voters are firmly in favour of independence. No less than 79% of those aged 16-24 - most of whom were too young to vote in 2014 - say that they would vote Yes.
No is still well ahead among the over 65s, but the foundations of support for the Union are seemingly gradually being eroded by demographic turnover.
Third, the gender gap, which in 2014 resulted in women being markedly less likely to support independence then men, has seemingly disappeared.
Today's poll, in which 60% of women back Yes compared with 57% of men, is in line with other recent polls, nearly all of which have revealed little or no gap.
Fourth, the poll suggests that some of those who voted No in 2014 are now attracted by the prospect that an independent Scotland would be able to head in a different direction from England.
As many as 38% of former No voters find this argument for independence convincing, while 28% are persuaded in particular by the fact that Scotland is being required to leave the EU even though it voted to Remain.
However, only 15% of former No voters think the claim that Scotland's economy would be stronger outside the UK is convincing, while even among those who say they would now vote Yes as many as 30% believe that leaving the UK would be a major risk for Scotland's economy.
There is evidently still plenty left to argue over in the debate about Scotland's constitutional future.
John Curtice is Professor of Politics, Strathclyde University and Senior Fellow, ScotCen Social Research and 'The UK in a Changing Europe'.