Salmond accuses Sturgeon of misleading parliament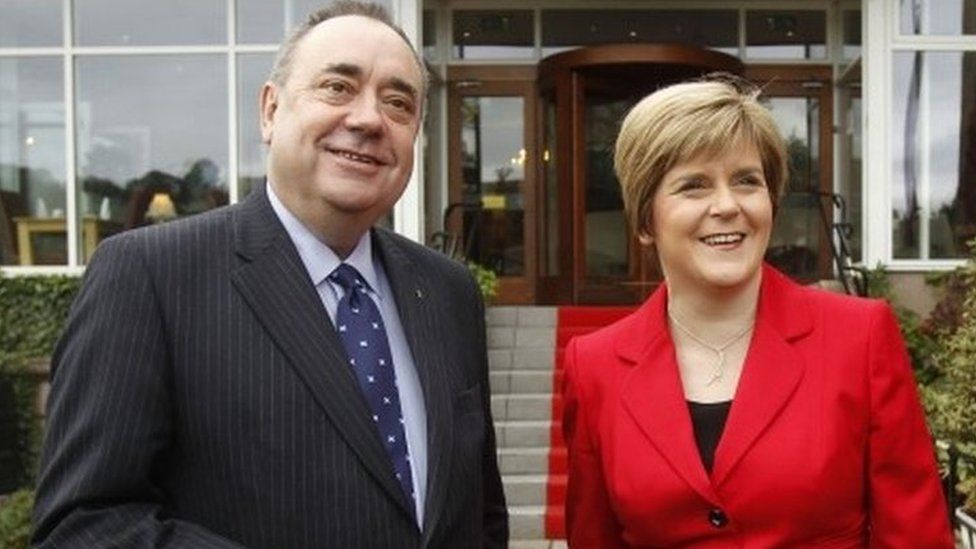 Alex Salmond has accused Nicola Sturgeon of misleading parliament, calling evidence she gave to an inquiry into the handling of sexual harassment claims against him "simply untrue".
Mr Salmond's comments emerged in a written submission to a separate investigation into whether the first minister breached the ministerial code.
The submission has been shared with the Holyrood committee.
Ms Sturgeon says she "entirely rejects Mr Salmond's claims".
In the submission, the former first minister said that Ms Sturgeon had misled parliament and broken the ministerial code with breaches including failing to inform the civil service in good time of her meetings with him.
He claimed she allowed the Scottish government to contest a civil court case against him despite having had legal advice that it was likely to collapse.
Ms Sturgeon told the Holyrood inquiry she had become aware of allegations at a meeting with Mr Salmond at her home.
It since emerged she met his former chief of staff in the days before, but she said she had forgotten about that meeting.
Mr Salmond said that claim was untenable.
His submission said that she misled parliament, and that amounted to a breach of the code. He also said she breached the code by failing to to inform civil servants of the nature of the meetings that took place between the two of them at her home where the allegations were discussed.
Mr Salmond's statement read: "The pre-arranged meeting in the Scottish Parliament of 29 March 2018 was "forgotten" about because acknowledging it would have rendered ridiculous the claim made by the first minister in parliament that it had been believed that the meeting on 2 April was on SNP Party business and thus held at her private residence."
Both Mr Salmond and Ms Sturgeon are expected to give evidence to the committee in the coming weeks.
Scottish Conservative leader Douglas Ross responded to the claims, saying: "Nobody ever bought Nicola Sturgeon's tall tales to have suddenly turned forgetful, especially about the devastating moment she found out of sexual harassment allegations against her friend and mentor of 30 years.
"What has been revealed are allegations of shocking, deliberate and corrupt actions at the heart of government. There is now clear evidence of Nicola Sturgeon abusing her power to deceive the Scottish public.
"If this proves to be correct, it is a resignation matter. No first minister, at any time, can be allowed to get away with repeatedly and blatantly lying to the Scottish Parliament and breaking the ministerial code."
Scottish Labour deputy leader Jackie Baillie said Alex Salmond's explosive allegations demanded answers from the first minister to the committee.
She said: "The bombshell accusation that Nicola Sturgeon has broken the ministerial code has the potential to end her political career and demands a robust and honest answer from the first minister.
"This committee demands truthfulness and honesty from every witness it calls - it is vital that the first minister tells the truth, the whole truth and nothing but the truth when she appears."
Ms Sturgeon has repeatedly dismissed any notion of a conspiracy against Mr Salmond.
Her spokeswoman said: "The first minister entirely rejects Mr Salmond's claims about the ministerial code.
"We should always remember that the roots of this issue lie in complaints made by women about Alex Salmond's behaviour whilst he was first minister, aspects of which he has conceded. It is not surprising therefore that he continues to try to divert focus from that by seeking to malign the reputation of the first minister and by spinning false conspiracy theories.
"The first minister is concentrating on fighting the pandemic, stands by what she has said, and will address these matters in full when she appears at committee."
'Acted in honourable way'
Speaking on BBC Radio 4's Any Questions on Friday evening, SNP Westminster leader Ian Blackford MP said he did not believe the accusations about the first minister were correct.
He said: "I believe that the first minister has acted in an honourable way, she's someone that I've every faith and trust in.
"I can tell you that the approval ratings for the first minister, the respect that she has right up and down the country of Scotland is enormous and this is something that will pass, when she appears in front of the committee these matters will be dealt with."
Alex Salmond has just turned up the heat on his successor with a submission that presents a direct and serious challenge to the reputation of Nicola Sturgeon - who was once his closest political ally.
What he no doubt considers as an attempt to secure justice, some others will see as a case of deflection and revenge.
Allegations of breaking the ministerial code of conduct and misleading parliament are serious and, if upheld, potentially career threatening.
Yet even some of Ms Sturgeon's fiercest critics at Holyrood do not expect the inquiries into the Scottish government's mishandling of harassment complaints against Mr Salmond to force her from office.
Mr Salmond seems to expect the review of the first minister's actions under the ministerial code of conduct to remain narrow enough that it could not possibly find against her.
The first minister herself appears confident of persuading all comers, including a cross-party committee of MSPs (before which both she and Mr Salmond are due to appear in the coming weeks) that she has acted properly throughout.