Alex Salmond urged to appear at Holyrood inquiry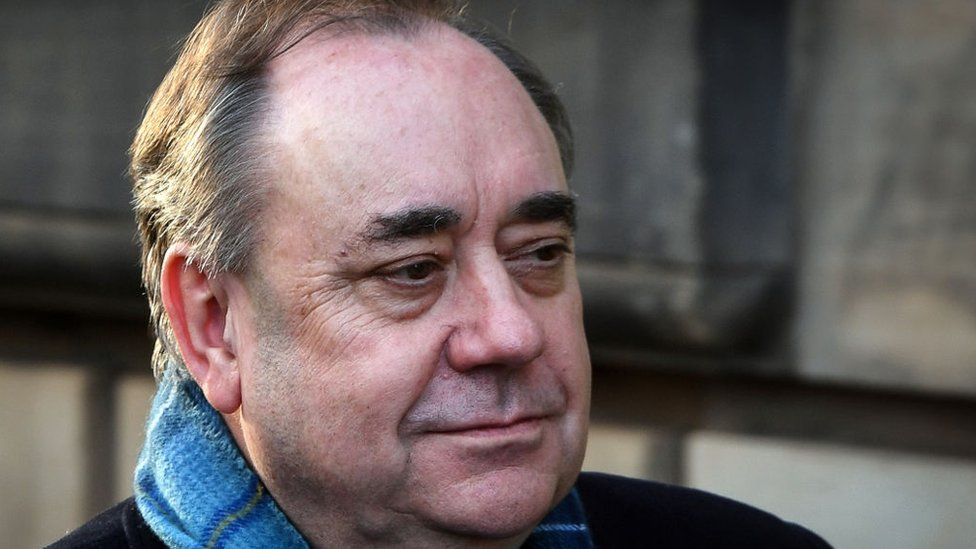 Alex Salmond has been urged to reconsider appearing before MSPs after he declined to attend the Holyrood inquiry committee on 19 January.
The former first minister has been invited to give evidence to the inquiry into the government's mishandling of harassment complaints against him.
His lawyers said it would "send a very bad message" for Mr Salmond to appear in parliament during lockdown.
But committee convener Linda Fabiani said she was "disappointed" by this.
She said Mr Salmond has not engaged with clerks to explore how he could give evidence in a "safe and secure way", suggesting he could appear remotely.
And the SNP MSP rejected a suggestion that Mr Salmond could attend in February, saying the committee needed to complete its report in good time for the government to respond before the Holyrood election campaign begins.
The committee inquiry was set up to investigate the government's botched handling of two internal harassment complaints against Mr Salmond.
After the former first minister initiated legal proceedings, the government conceded its approach had been "unlawful" and agreed to pay Mr Salmond more than £500,000 in costs.
The inquiry is reaching its concluding stages, with Mr Salmond and his successor Nicola Sturgeon among the few witnesses still to give evidence.
The committee want to complete formal sessions in January, so they can complete a report and lay it before parliament before the Holyrood election campaign begins in March.
However Mr Salmond rejected an invitation to give evidence on Tuesday, 19 January, with his lawyers saying he "feels very strongly that it would send a very bad message to the rest of the country" for him to attend parliament during lockdown.
His legal team have also repeatedly demanded the government disclose documents linked to Mr Salmond's criminal trial, which saw him acquitted of 13 charges of sexual assault in March 2020.
They say he was warned that referring to papers handed over as part of the criminal case could see him face prosecution, claiming it would be "highly problematic" for him to be questioned under oath without being able to refer to "essential" evidence.
However in a letter to Mr Salmond, Ms Fabiani hit back that all committee witnesses "must comply with relevant legal obligations", including orders not to share confidential information from the criminal trial.
She said the committee had sought access to records and "gained access to numerous key documents" through the courts, as well as pursuing the government to disclose its legal advice and "valuable confidential detail".
The convener also said she was "extremely unhappy" that Mr Salmond had shared his submission to a separate inquiry into whether Ms Sturgeon broke the ministerial code without it being cleared by lawyers first.
She urged Mr Salmond to "reconsider the committee's invitation" and contact clerks about arrangements, adding that she was "particularly disappointed" he had issued a "definitive" refusal without speaking to them first.
The committee plans to interview Ms Sturgeon after the proposed session with Mr Salmond, with the present first minister saying she looks forward to putting her side across to members.
The two first ministers have been locked in an escalating row about Ms Sturgeon's involvement in the case, with Mr Salmond accusing her of "repeatedly" misleading parliament and Ms Sturgeon's team accusing him of "spinning false conspiracy theories".