Alex Salmond denies SNP staffer 'physical aggression' claim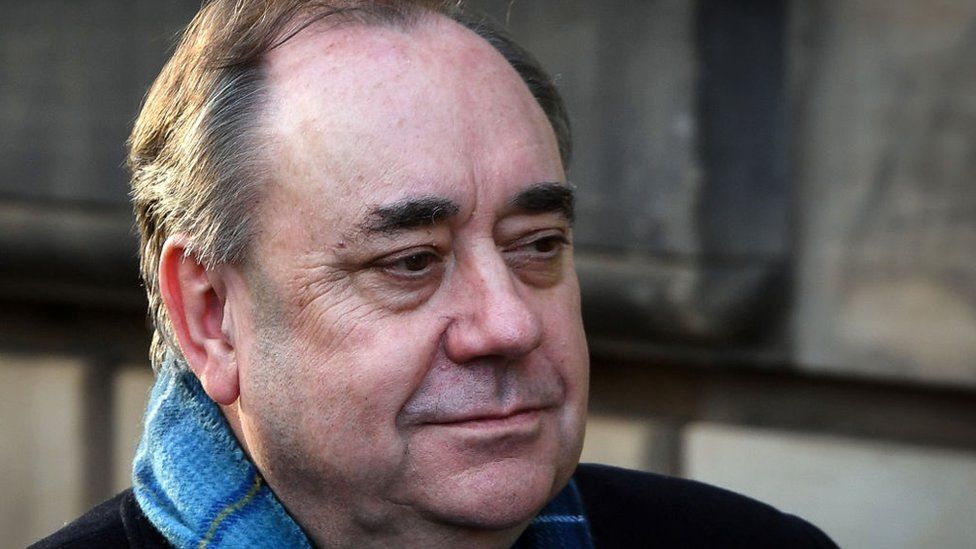 Alex Salmond has denied an accusation made by an SNP staff member who said she previously reported an "act of physical aggression" by him to police.
SNP chief operating officer Sue Ruddick made the claim in a statement about the Holyrood inquiry into the mishandling of complaints against Mr Salmond.
However the former first minister's team put out a statement from another SNP staffer contradicting Ms Ruddick.
Anne Harvey said she believed there had been a "witch hunt" against Mr Salmond.
The two sides clashed over whether Ms Harvey had actually been present at the time of the alleged incident, which was investigated by the police but did not lead to a criminal charge.
Mr Salmond was due to appear before the inquiry committee on Tuesday, but the session was called off due to a dispute over whether MSPs could publish his written submissions in full.
The inquiry was set up to examine what went wrong with the government's internal investigation of two harassment complaints against Mr Salmond, after officials accepted the probe had been "unlawful".
On Monday, Ms Ruddick issued a statement criticising the approach of the committee, saying MSPs were being "led by selective quoting, leaks and false allegations" and seemed "determined to ignore complainers' privacy rights".
And she said text messages the committee had examined and ultimately decided not to publish had revealed that she had reported "an act of physical aggression by Mr Salmond" to Police Scotland.
This was disputed by the former first minister's team via a statement from Ms Harvey, who is an official in the SNP whip's office at Westminster.
She claimed to have witnessed the incident referred to by Mr Ruddick, which Ms Harvey said had happened in a stairwell while the three were out campaigning in Glenrothes in 2008.
Ms Harvey said: "Alex walked past Sue in the stairwell of a close. He brushed past her on the stairwell as he was heading to leave the close. I saw and heard nothing which caused me any alarm or concern.
"This is the incident she is referring to, but I can categorically confirm that there was no physical aggression on the part of Mr Salmond."
Ms Harvey - who was called as a defence witness during Mr Salmond's High Court trial, which saw him acquitted of 13 charges of sexual assault - said she believed there was a "witch hunt" against him, and that she had offered to provide a "detailed affidavit" to his lawyers.
A further statement from Ms Ruddick disputed Ms Harvey's account, saying "she was not present at the time of this incident".
A spokeswoman for Mr Salmond replied that Ms Harvey "has total certainty of her recall".
A Police Scotland spokeswoman said: "Police Scotland received a report of common assault which was thoroughly investigated.
"There was insufficient corroborative evidence to charge, however, the circumstances were included in our report to the Crown Office and Procurator Fiscal Service."
Ms Ruddick's statement was published on Monday as her boss, SNP chief executive Peter Murrell, was giving evidence at the Holyrood inquiry.
Mr Murrell - who is married to First Minister Nicola Sturgeon - was recalled to face MSPs after they claimed he had made contradictory claims about meetings between Ms Sturgeon and Mr Salmond.
Conservative MSP Murdo Fraser said the SNP chief had given the committee "false information while under oath".
Mr Murrell said he would "absolutely refute" this, insisting there was no contradiction in his evidence and adding: "It's pretty simple, I think you're trying to suggest things or knowledge that I just don't have about these things."
He also said evidence he had given about the meetings being a government matter - rather than SNP business, as Ms Sturgeon has claimed - was "speculation on my part".
Ms Sturgeon said on Monday that she was "looking forward" to facing the committee in the coming weeks - potentially on 16 February - adding: "I will get the opportunity to take head on some of the ridiculous suggestions that have been made about this whole situation, suggestions I know have caused many people a great deal of distress."
It remains unclear whether Mr Salmond will also give evidence before Ms Sturgeon's appearance, with his expected session on Tuesday called off after his lawyers raised "a number of issues for clarification".
A spokeswoman for the Scottish Parliament said talks would continue with Mr Salmond's representatives.