What now for Nicola Sturgeon?
By Nick Eardley
BBC political correspondent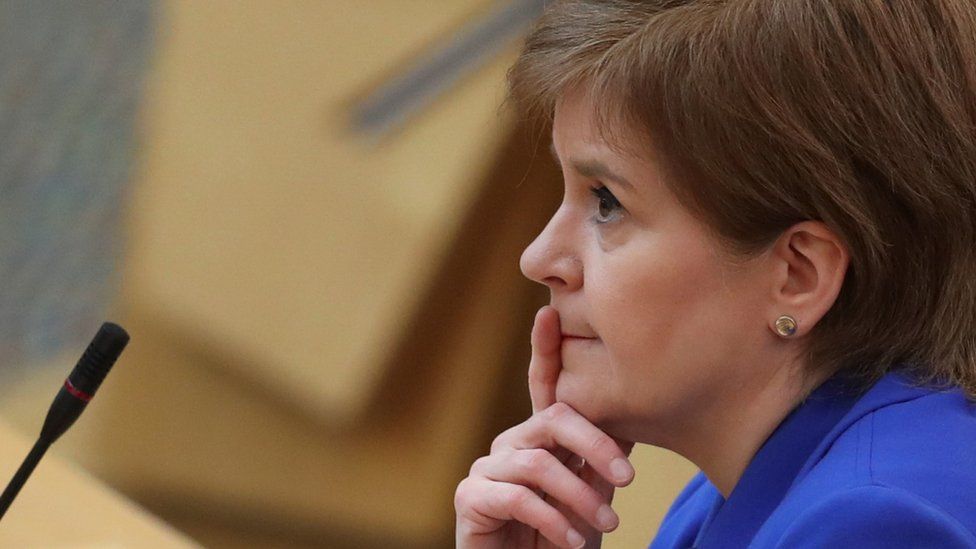 In five days, Holyrood will pack up for the election.
Seven weeks today, voters will have chosen a new Scottish Parliament.
Yet Scottish politics now finds itself in the most extraordinary situation - with calls for the first minister to resign, the government launching an attack on a parliamentary committee, and with huge questions to be answered in the coming days.
It centres around the first minister's account of meetings with Alex Salmond, and whether she gave him the impression she would intervene in the government's harassment investigation.
Ms Sturgeon has said she didn't; Mr Salmond and his lawyer said she did. A narrow majority on the committee is not satisfied with Ms Sturgeon's answers and believe her comments to them were inaccurate.
Misleading the committee - and by extension parliament - is a serious issue.
It's clear in the ministerial code, which Ms Sturgeon oversees, that ministers who knowingly mislead parliament should resign.
We also expect the committee will have other criticisms over Ms Sturgeon's account, including when she says she first heard of concerns about Mr Salmond's behaviour.
But do not expect the first minister to step down over the committee's conclusions.
Firstly, this isn't an accusation she knowingly misled MSPs on the committee.
Secondly, Ms Sturgeon's team have quickly dismissed the committee's findings as political.
In a pretty remarkable statement, the first minister's spokesman said this afternoon that the committee "appears to have resorted to baseless assertion, supposition and smear".
The Scottish Tories said the criticism was "unhinged".
But it's clear Team Sturgeon are going to fight the committee and won't simply accept its criticisms of the first minister.
There is, however, another report which they can't dismiss in the same way.
In the next few days, the independent adviser on the ministerial code, James Hamilton, will deliver his findings on whether Ms Sturgeon is guilty of breaking the rules ministers have to follow.
In recent days, the Scottish government has repeatedly pointed towards that report as the key one. If it does conclude Ms Sturgeon broke the ministerial code, the pressure on her will increase significantly.
All the while, the Scottish Tories are threatening to force a confidence vote in Ms Sturgeon on Wednesday - the last day of this parliament. It's far from clear that would be successful, but it's a sign of the febrile situation at Holyrood.
There is also fury among some members of the Holyrood committee that some of its findings leaked a few days before official publication.
The convener Linda Fabiani, who is an SNP MSP, has said she is dismayed by the situation and believes it could undermine the committee's work - looking into why the Scottish government's harassment policy failed complainants in 2018. It will be interesting to see on Tuesday what the full document says.
There is a lot to be resolved in the five days before Holyrood packs up ahead of the election.
What does the full committee report say? We'll find out at 08:00 on Tuesday.
Did Ms Sturgeon break the ministerial code? An answer is likely early next week.
Could Ms Sturgeon face a no confidence vote in the final days of this parliament? Maybe, but it's not clear she would lose.
At any time, this would be a huge political story. But it's even more significant just weeks out from an election.
Recent polls suggest it is on a knife-edge whether the SNP win a majority. If they do, the party will use it to say they have a mandate for another independence referendum.
Opposition parties are desperate to stop that majority happening so that they can argue there is no mandate... although it's all a bit more complicated than this. The SNP could have a pro-referendum majority with the Greens. Boris Johnson could - and probably would - still refuse to agree to one.
This all sets up an incredibly heated and bitter election campaign.
Nicola Sturgeon's political opponents will argue she can't be trusted. Ms Sturgeon will say opposition parties have politicised a serious investigation into how harassment allegations were handled.
The next few days are going to be intense. The next few weeks will be too.