Scottish election 2021: Labour calls for commission to 'clean up Holyrood'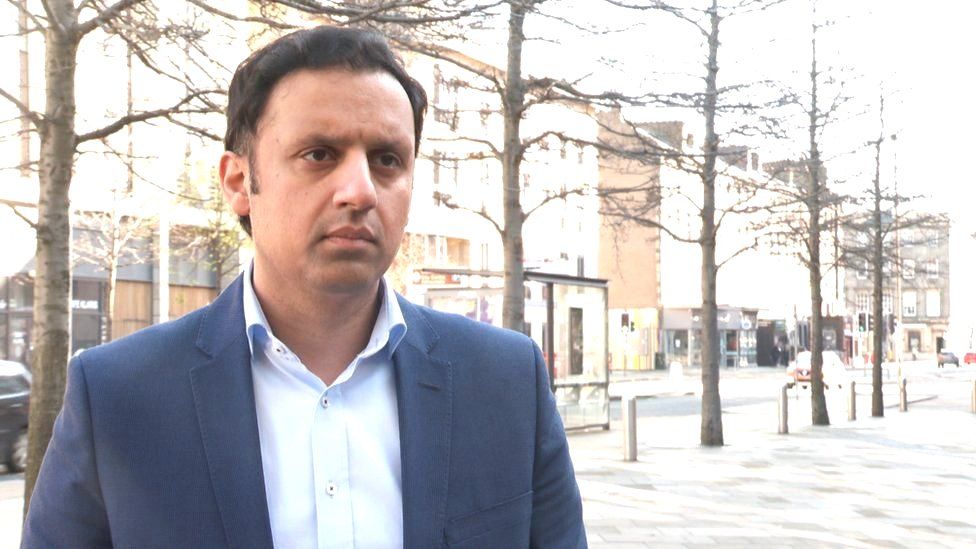 Scottish Labour has launched a "clean up Holyrood" consultation to help hold the government to account.
Party leader Anas Sarwar said "trust and faith in parliament has been lost in recent years".
"Institutional failures" around the Salmond inquiry should not carry into the next five-year term, he said.
The consultation would explore ideas such as an independent ethics commissioner overseeing government and the right to recall MSPs.
The proposals come after MSPs investigated the mishandling of sexual harassment complaints made against former first minister Alex Salmond.
Mr Sarwar, who was campaigning in Edinburgh, said: "We are rightly proud of our role in establishing a devolved parliament, but we have to accept that trust and faith in parliament has been lost in recent years.
"We need to rebuild that because only when people believe that Holyrood works for them will we be able to unite Scotland."
He said MSPs could not allow the "institutional failures that defined the Salmond inquiry to run over into the parliament of the next five years."
Scottish Labour would also explore splitting the dual role of the lord advocate, reforming Freedom of Information legislation to increase transparency, and having elected committee conveners - as happens in the House of Commons.
Mr Sarwar said MSPs should also be covered by parliamentary privilege and given whistle-blower status if they needed to speak out and raise key issues.
"Scotland deserves so much better than a parliament where egos, agenda and grudges are allowed to run rampant," he said.
"And that is what is at stake in this election - we have a choice to put people, their families and our national recovery first. The pandemic has changed Scotland - it's time to ditch the old politics of division and focus instead on working together on the things we can do."
During a visit to Edinburgh International Conference Centre to meet vaccinators, Mr Sarwar also called for more investment in medical research in Scotland.
"The pandemic has badly hit medical research in Scotland, with institutions and charities facing uncertain futures," he said.
"Scottish Labour is committed to working with the research community to protect and enhance medical research in Scotland."
SCOTLAND'S ELECTION: THE BASICS
What elections are happening? On 6 May, people across Scotland will vote to elect 129 Members of the Scottish Parliament (MSPs). The party that wins the most seats will form the Scottish government. Find out more here.
What powers does the Scottish Parliament have? MSPs pass laws on most aspects of day-to-day life in Scotland, such as health, education and transport. They also have control over some taxes and welfare benefits. Defence, foreign policy and immigration are decided by the UK Parliament.
How do I vote? Anyone who lives in Scotland and is registered to vote is eligible, so long as they are aged 16 or over on the day of the election. You can register to vote online.
Also on the campaign trail on Friday, Scottish Liberal Democrat leader Willie Rennie, committed to doubling the number of mental health counsellors in training.
His party manifesto would offer £5,000 grants to students undertaking counselling courses so that a wider range of people are able to train, he said during a visit to Broughty Ferry.
"As we come out of the pandemic, it is time for Scotland to put the recovery first and fix our overwhelmed mental health services for good," Mr Rennie said.
"Even before the pandemic struck we had a record number of children waiting over a year for help and the situation has worsened since."
The Scottish Conservatives party leader Douglas Ross was at Thales Optronics in Glasgow where he laid out manifesto pledges to prevent young people becoming Covid's "lost generation".
He said the Scottish Conservatives' post-pandemic rebuilding plan would support demand-led apprenticeships.
"Our ambitious plans would make apprenticeships unlimited, and responsive to the needs of businesses, rather than restricted by government targets," Mr Ross said.
"As well as removing the £15,000 government support cap, we would guarantee that apprentices receive 'off the job' training and ensure more women can access apprenticeships."
SNP leader Nicola Sturgeon was in Glasgow's west end to talk about her party's support for the economy post-lockdown and to urge people to support their local businesses.
"We've all got a part to play in supporting local business," Ms Sturgeon said. "The government's got a big part to play,
"We're providing help through rates relief, through grant support, investment in regeneration of high streets and support to encourage people to shop local."
At a visit to Bearsden Community Hub, Scottish Greens co-leader Patrick Harvie called for 5,5000 more teachers to be trained and recruited to help ease pressures on the education system.
"Education was already under stress even before the pandemic," he said. "While there has been additional recruitment to cope with the Covid pressures, thanks to a Green amendment that was passed in parliament, we know that far more recruitment is necessary."