Covid in Scotland: Government considers digital vaccine certificates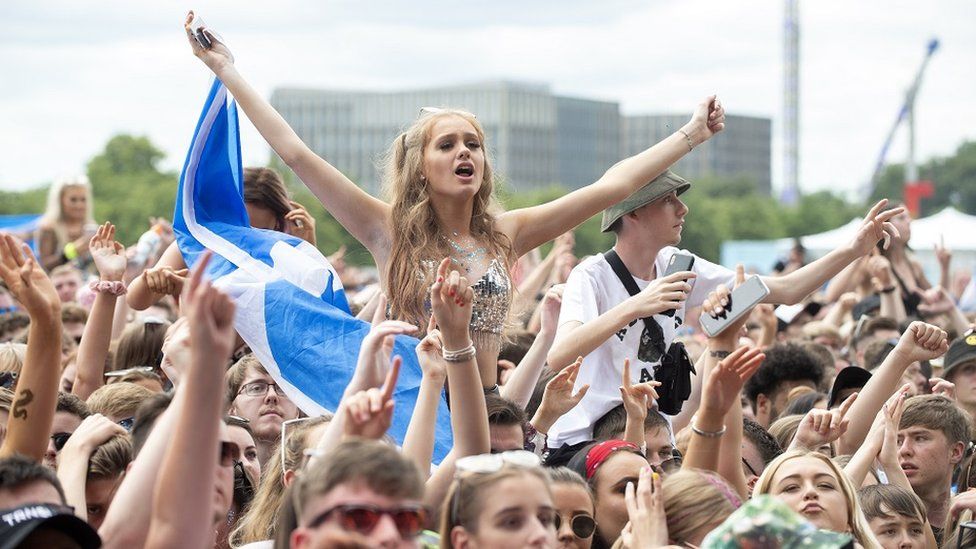 The Scottish government is considering making digital "certificates" available to people who have had the Covid-19 vaccine, the health secretary has said.
She said they had to consider ethical and equality questions.
The UK government says such a scheme could have an important role to play both domestically and internationally and is "likely to become a feature of our lives until the pandemic recedes".
The digital documents could record whether people had been vaccinated, recently tested negative or had natural immunity and are seen as a possible means of enabling mass-audience events to take place in the future.
Ms Freeman said any scheme in Scotland should operate digitally as far as possible.
"I don't want to put an unnecessary burden on the health service, on our GP practices for example with everyone going to them looking to get the bit of paper that says 'I've been vaccinated'," she said.
"Because I want those GP practices to be able to return as quickly as it's possible to delivering all the services they were before the pandemic.
"We're currently looking at what would be the digital infrastructure you'd need for any form of certification as we've worked through those ethical, equality and practical questions about how it might be used and in what circumstances."
The health secretary said the government and its clinical advisors would keep a "watching brief" on the Covid passport scheme south of the border.
"There are practical questions about whether or not it can in practice work and what it means for the venue operators, for example, if they have someone who doesn't have the necessary test result or vaccination and what do they do in those circumstances," she said.
"We don't want to put an unnecessary burden on them. But also as we have said all along about vaccine certification, there are ethical and equality questions that you've got to work through because not everyone can get the vaccine."
As we prepare to open more of society up, a controversial question is going to need answered: should we have domestic vaccine passports?
A version of them - also taking into account recent tests and natural immunity - is to be trialled in England. Should that approach be mirrored in Scotland?
On the one hand, allowing people to socialise in a bigger crowd - provided they can prove they're vaccinated or lower risk - makes sense.
But there are obvious concerns: what happens to people who haven't had a recent test or are still waiting for a jag? Or those who (for whatever reason) decline the vaccine? Are they turned away at the door?
Some see it as the thin edge of the wedge when it comes to civil liberties. They're concerned about allowing governments to decide what we can and can't do based on medical history.
The Scottish Government is looking at a digital way for people to show their vaccine status. But it remains unclear whether or not vaccination will lead to enhanced freedoms.
Public health expert Prof Linda Bauld told BBC Scotland's Reporting Scotland it was important to distinguish between the types of vaccine passport being proposed.
She said the trials of vaccine passports at large-scale events in England were the "way forward".
"It's absolutely spot on to do a study, look at how it goes and then use the findings to directly inform getting many more people back into sports events, concerts, festivals, you name it. That's what we're going to have to do in the future," she said.
On needing a passport for every day life, she added it was "much more difficult" and that the key to opening the non-essential retail and hospitality sectors would be to "drive down the incidence and the prevalence of the disease like we did last summer".
Willie Rennie, the leader of the Scottish Lib Dems, urged caution - describing the move as a "massive step for the state to insist that people are vaccinated before accessing everyday services".
"This is grossly unfair to the millions who have not been vaccinated yet and to those who have been advised not to take the vaccine," he added.
Co-leader of the Scottish Greens, Lorna Slater, said she "wasn't over-keen" on vaccine passports and that there were a "lot of problems with them ethically and practically".
She said there should be more discussions before making a decision.
Meanwhile, Scottish Labour leader Anas Sarwar welcomed the idea of vaccine passports, but said the "international aspect needs to be really prioritised".
He said it will be important for tourists to have the right certification and Scots going abroad would also need evidence that they had been vaccinated.
A Scottish Conservative spokesman said: "We look forward to being able to fully consider these proposals and hope the four governments can work together to ensure consistency and clarity across the UK."