Scottish election 2021: Results in maps and charts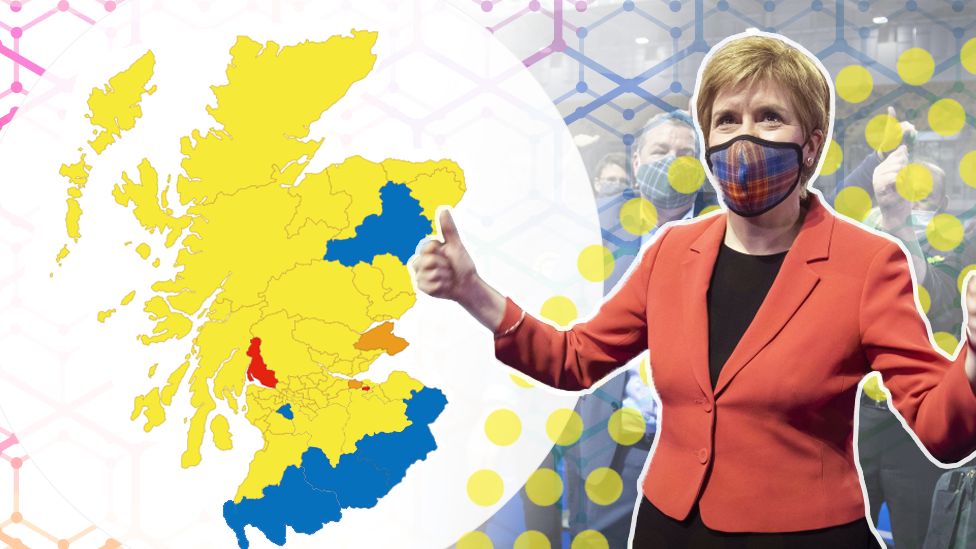 The SNP has won 64 seats in the Scottish Parliament election - one short of a majority but one more than it won in 2016.
We look at the picture across Scotland and the shape of the new Scottish Parliament.
Scotland's electoral map gives you a pretty good idea of who has won the election - it is swathed in SNP yellow. But look closely and you can see why they fell just short of an outright majority.
The seats they failed to win are islands in regions otherwise dominated by the SNP, meaning it was all but impossible for them to win seats back from the regional list, in the swings and roundabouts of the Holyrood system.
Two of the constituencies they did gain, in Ayr and East Lothian, were in a region where they already had list seats, two of which were subsequently lost.
The small strongholds that other parties have scattered across Scotland ultimately proved decisive.
The fact the SNP did not win a majority will make a real difference to the next five years at Holyrood. A minority government needs support from other parties to pass budgets and all its major reforms.
If it had been a majority, we could have put every other manifesto in the bin and taken the SNP's manifesto to be the definitive guide to the term ahead.
The Scottish Greens in particular - who were the SNP's partner of choice last term - will be looking forward to potentially having some of their policy priorities passed in return for crucial votes.
It also means the SNP will not have a majority on any Holyrood committee, meaning their legislation will not necessarily sail through the parliament with ease.
The Scottish Conservatives retained their position in second place in a vindication of the party's strategy to target the "peach vote" - the colour of the regional list ballot paper
There were initially some nerves that they might have neglected the "lilac" constituency vote, but they ultimately held their key seats with the help of transfers from other pro-union parties.
Tactical voting may have had a huge impact overall - every seat seems to have become a race between the SNP and the party that was judged most likely to beat them locally.
Labour - the party which may have the most to do to come up with a convincing answer to the constitutional question - finds itself marooned in third place again.
The Lib Dems meanwhile have slumped to just four seats due to their failure to pick anything up from the regional lists.
They have a number of strongholds in different parts of Scotland, but these are so tightly focused that the party's constituency wins in those areas make it very hard for them to pick up list seats too.
In an election of continuity, there was one surprise result which was quite different from previous years - turnout.
Some 63% of the electorate came out to vote, a full ten percentage points above the average for previous Holyrood polls.
It is hard to say exactly why this happened, but a number of factors will likely have been at play.
The rise in postal vote registrations could be one, as could the expansion of the franchise to new groups including refugees.
And the pandemic may have ultimately boosted turnout, rather than held it down, as many had predicted.
People might have had more time to engage with activists or go out to vote due to lockdown.
Indeed lockdown itself may have encouraged some to vote, having been a very clear example of the powers that governments can exercise.
Holyrood's diverse representation had somewhat stalled in recent years - but that has all changed now.
The class of 2021 includes a record number of 58 female MSPs. The SNP now has 34 women, Labour have 10, the Conservatives have eight, the Scottish Greens have five and the Lib Dems have one female MSP.
It has chiefly been driven by the SNP's policy of having all-women shortlists for many seats where male MSPs were retiring - meaning a lot of older male MSPs have effectively been replaced by younger women.
Labour's Pam Duncan-Glancy became the first wheelchair user returned to Holyrood, in what may be the most diverse parliament to date.