Finance secretary 'has to tiptoe around' her Christian faith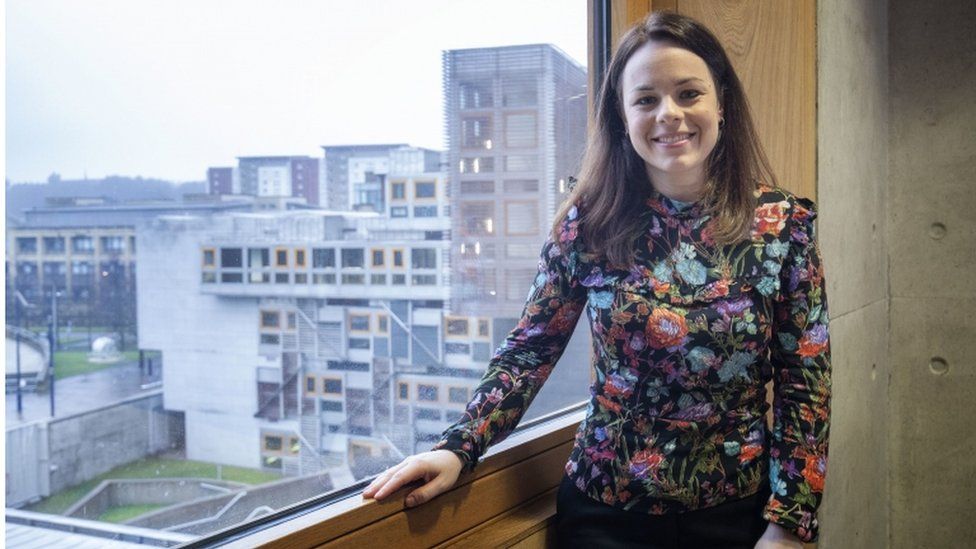 Scotland's finance secretary has revealed she has often been "guilty" of "tiptoeing around" her Christian faith.
Kate Forbes was partly raised in India after her parents travelled there as missionaries when she was just six weeks old.
Ms Forbes is a member of the Free Church of Scotland, which follows a strict interpretation of the Bible.
It is opposed to gay marriage and believes there are few circumstances in which abortion is justified.
It only allowed the singing of hymns and playing of musical instruments in its church services in 2010, and traditionally opposes doing most activities on a Sunday.
But she said she had been "as guilty as anybody of tiptoeing around" it because of a "fear and a sense that the public will think we only speak for our own rather than speak for everybody".
And she said politicians should be able to represent everyone regardless of whether they have "walked in their shoes or completely understand where they are coming from".
Ms Forbes, who has been tipped by some as a potential successor to First Minister Nicola Sturgeon, said: "To be straight, I believe in the person of Jesus Christ.
"I believe that he died for me, he saved me and that my calling is to serve and to love him and to serve and love my neighbours with all my heart and soul and mind and strength.
"So that for me is essential to my being. Politics will pass - I am a person before I was a politician and that person will continue to believe that I am made in the image of God."
However, she said she had a responsibility to represent all of her constituents regardless of any difference in their beliefs.
She added: "Some of them will agree with my politics, others will disagree. Some will agree with my faith, others will disagree.
"I have a duty to represent them, but neither do I want to deceive my constituents and I think being straight with them about my faith, about who I am, about my background is really important."
It was Labour prime minister Tony Blair's spin doctor Alastair Campbell who famously said "we don't do God" when his boss was asked about religion.
That uneasiness about mixing faith and politics remains commonplace at both Westminster and Holyrood.
One rare exception was when, as Scottish justice secretary, Kenny MacAskill freed the Lockerbie bomber on compassionate grounds claiming he'd been sentenced to terminal cancer by a "higher power".
That phrase was chosen in the hope it would resonate with audiences in the United States where religion features more prominently in public debate. It did not avert an outcry.
The Conservative MSP Murdo Fraser has spoken of the "prejudice" faced by Christians in public life and the abuse he received for offering compassion to an SNP minister who left office in disgrace.
As UK Liberal Democrat leader, Tim Farron faced questions about his personal beliefs on gay sex that put him in a position where "either I let the party down or I compromised my faith" he said.
Both religion and politics can be sensitive subjects and combining the two sometimes adds complication which helps explain why many public figures, like Kate Forbes, tend to tiptoe around their faith.
The MSP for the Skye, Lochaber and Badenoch was appointed finance secretary at the age of 29 in February of last year after the resignation of Derek Mackay, who quit after it emerged he had sent hundreds of social media messages to a 16-year-old boy.
Earlier this week, she was given an expanded role within the Scottish government as part of changes announced by Ms Sturgeon to her cabinet team in the wake of the SNP's victory in the recent Scottish Parliament election.
In a wide-ranging interview with host Nick Robinson, Ms Forbes said she believed that people had "lost the ability to debate issues" without hating those who hold different viewpoints.
But she said the problem was not confined to some hardcore supporters of independence who have been accused of abusing their opponents on social media.
Ms Forbes said: "Those who disagree with me call out my side, but I look at my Twitter timeline and the levels of vitriol, abuse and creative insults are such that I cannot read it.
"So I think the problem is not by any means monopolised by one side, and my job and other's job is to try and break that mould."
She also said both sides in Scotland's independence debate had become "more entrenched", with opinion in the country essentially split down the middle.
Opponents - and some supporters - of independence have accused the Scottish government of failing to set out clear plans around areas such as what currency an independent Scotland would use, and how the border with England would work.
But Ms Forbes said work on preparing the case for independence ahead of a second referendum - which the SNP wants to hold once the Covid crisis has passed - "will be done before people go to vote".