Sturgeon issues plea to Johnson over Universal Credit uplift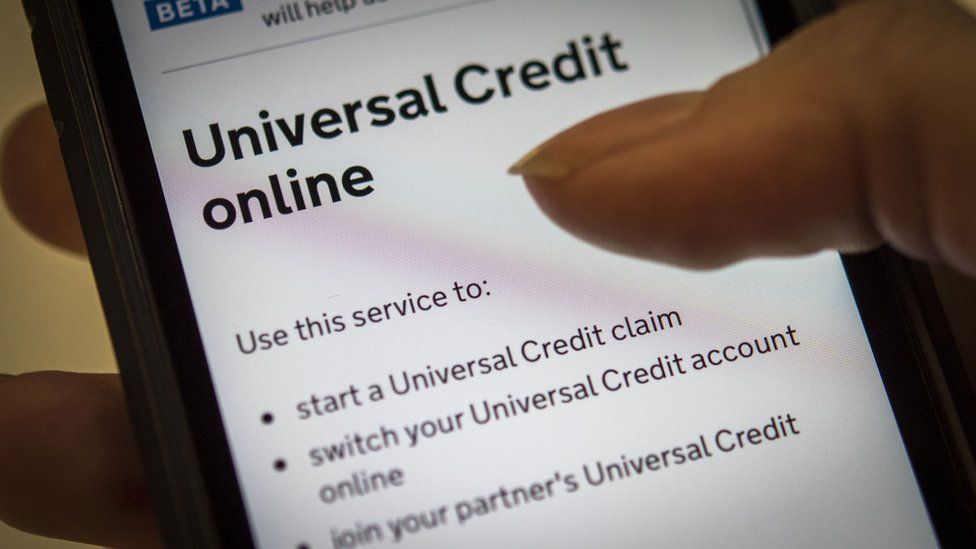 Nicola Sturgeon has issued a direct plea to Prime Minister Boris Johnson not to end the Universal Credit uplift.
The Scottish first minister said the move risked pushing tens of thousands of people into poverty.
During the Covid-19 pandemic, £20 was added to each weekly payment of Universal Credit - but the temporary scheme is due to end in October.
On Sunday, Health Secretary Sajid Javid confirmed that the uplift would end "as planned" in the coming weeks.
Ms Sturgeon said the move would be "utterly devastating" and would "literally take food out of children's mouths".
The SNP leader addressed Mr Johnson directly during her SNP conference speech, asking him not to go ahead with the "deeply cruel cut".
Universal Credit is claimed by more than 5.5m households across the UK.
The payment was increased by £20 per week as a response to the Covid-19 crisis, but UK ministers insist it was only ever a temporary measure.
Despite calls for the increase to be made permanent, the government says as the economy opens up the focus should shift to getting people back into work.
Some charities have hit out at the move, with Citizens Advice saying that a third of claimants would end up in debt when the extra payment is removed.
Addressing the SNP's virtual party conference, Ms Sturgeon said the move risked pushing 60,000 Scots, including 20,000 children into the formal definition of poverty.
She said: "Most of those affected are either in work or not able to work due to health or caring responsibilities. The loss of more than £1,000 a year will be utterly devastating.
"It will quite literally take food out of children's mouths. It will drive people into debt and, in some cases, to destitution and despair."
She added: "If this deeply cruel cut does happen, the only conclusion it will be possible to reach is that Boris Johnson simply has no shame.
"Please, prime minister, for the sake of millions of desperate people across the country, do not let that be history's verdict upon you."
Several UK ministers have said the uplift will be ended as planned in October, with Mr Javid the latest to confirm this on Sunday.
Mr Johnson said in August that he wanted the focus to be on better paid jobs, rather than welfare.
He said: "My strong preference is for people to see their wages rise through their efforts rather than through taxation of other people put into their pay packets, rather than welfare.
"The key focus for this government is on making sure that we come out of Covid strongly, with a jobs-led recovery."
The appeal to Boris Johnson to rethink plans to withdraw the £20 a week uplift to Universal Credit was striking if not surprising - the SNP has been campaigning to keep it for some time.
Nicola Sturgeon used this issue alongside Brexit, immigration policy and funding for a youth conference at COP26 to create a contrast between Scottish and UK government approaches.
Her purpose was clear: to invite the audience to consider the potential for alternative decision-making if Scotland was an independent country.
She acknowledged independence would come with challenges - her colleague John Swinney having told the BBC the transition to a new currency would mean Scotland could not print money for several years, for instance.
However, Ms Sturgeon insisted another referendum must come and expressed the hope this could be achieved in cooperation with the UK government.
What she did not say was how UK opposition to indyref2 might be overcome - instead inviting supporters to trust her to deliver.