Warnings instead of prosecution for Class A drug users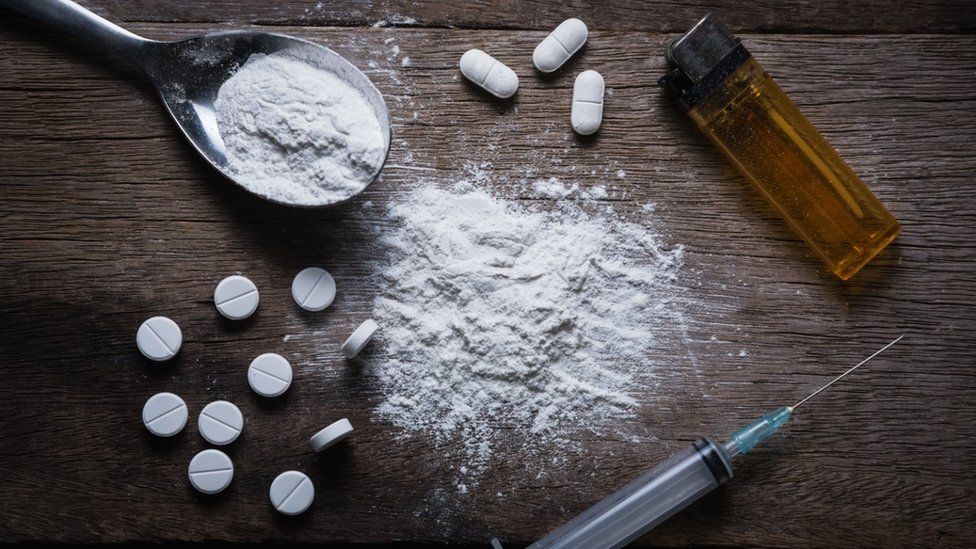 People caught with Class A drugs in Scotland could be given a police warning instead of facing prosecution.
Officers can already issue a formal warning for possession of lower category drugs.
Lord Advocate Dorothy Bain told MSPs this would now include Class A drugs in a bid to address the underlying causes of Scotland's drugs death crisis.
The Conservatives said the move amounts to "de facto decriminalisation" of deadly substances.
Ms Bain insisted this was not the case, adding that there is "no one size fits all" response to drug addiction and that every case should be judged individually.
She stressed that the scheme would not extend to drug dealing and that officers would still have the ability to report certain cases to prosecutors.
Scotland logged a record 1,339 drug-related deaths in 2020 - by far the highest rate in Europe - with the Scottish government pledging to make it a "national mission" to cut fatalities.
Ms Bain told MSPs that the mounting death toll represented a "public health emergency", and that steps could be taken via the prosecution system to help.
At present, police officers are able to issue a Recorded Police Warning to people who commit low-level offences, rather than refer them to the prosecution service.
Which offences are covered by this scheme is kept confidential, but Ms Bain told MSPs that it had applied to Class B and Class C drugs.
The Lord Advocate said she had decided that it should be expanded to include possession offences for Class A drugs, meaning "officers may choose to issue a warning for simple possession offences for all classes of drugs".
Prosecutors can also refer people accused of drugs offences for "diversion", where they are dealt with by social work teams or other agencies rather than the criminal justice system.
Ms Bain said: "There is no one size fits all response to an individual found in possession of a controlled substance, or an individual dependent on drugs.
"The most appropriate response, the smartest response in any drugs case must be tailored to the facts and circumstances of both the alleged offence and the offender.
"Scotland's police and prosecutors are using the powers available to them to both uphold the law and help tackle the drug death emergency."
Police Scotland said it took a health-led approach to addressing drug deaths, saying the change "gives officers another tool to support those at risk of becoming vulnerable in our communities".
Assistant Chief Constable Gary Ritchie - the force's head of drug strategy - said formal warnings would still appear on criminal records, and that persistent and serious offenders would still be reported to prosecutors.
And he said the force was "steadfastly committed to tackling those who bring misery to our communities by dealing drugs and taking advantage of those who are at their most vulnerable".
Addiction charity Faces and Voices of Recovery UK said the move was welcome, but would not be a "silver bullet" for the country's drug deaths crisis.
Chief executive Annemarie Ward said: "Diversion from prosecution will prevent many people who really need help and support from being forced through our criminal justice system.
"It should allow people who are caught in addiction to get into treatment, instead of being sent to jail."
However the Scottish Conservatives hit out at the plan, calling for the policy to be debated and voted on at Holyrood.
MSP Jamie Greene said: "Scotland's drug death crisis is our national shame. But surely the way to tackle is by improving access to treatment and rehab not to dilute how seriously we treat the possession of deadly drugs like heroin, crystal meth and crack cocaine, the scourges of our streets and of our society.
"The answer to our drug death crisis is treatment, not de facto decriminalisation by the back door."
However other parties backed the move, with Labour's Claire Baker saying the statement was "very welcome".
She added: "Scotland's drugs death crisis is a scandal of national proportions and it is only right that a public health approach is taken to tackle it."