Scottish budget: Councils given 'complete flexibility' to raise tax rates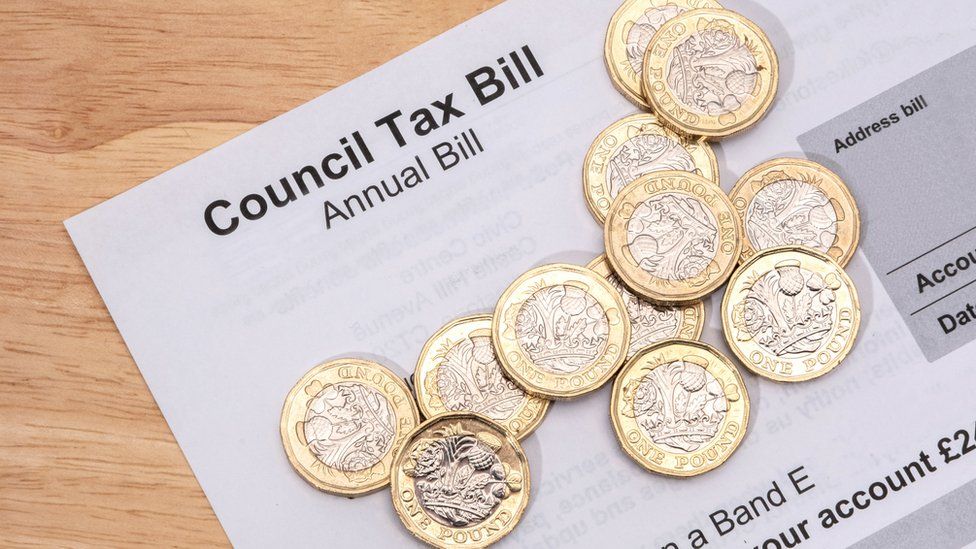 Local authorities will be able to increase council tax by as much as they want next year, the Scottish government has announced.
Finance Secretary Kate Forbes opted to freeze income tax rates and bands in her budget.
But she dropped the longstanding policy of freezing or setting limits on council tax rises.
The government said councils should "take full account of local needs" and household budgets in their decisions.
Opposition parties said councils would be forced to introduce big tax hikes due to a tough budget settlement, but Ms Forbes said the government had protected local government "as far as we can".
Council elections are due to be held across Scotland next year.
Ms Forbes said her tax and spending plans for the coming year - which will pass through Holyrood with the support of the Greens - would also provide funding to tackle child poverty, help businesses recover from the pandemic and help move towards "net zero" carbon emissions.
The move marks the first time that councillors have been given complete freedom to set local tax rates since the SNP came to power in 2007.
The party originally campaigned on a policy of replacing the council tax before entering government at Holyrood, but moved instead to freeze the tax for nine years.
Councils were allowed to raise taxes within agreed limits from 2017 onwards, but all authorities returned to the freeze last year after ministers offered them cash in return for not putting up rates.
Ms Forbes did not include the detail of the new proposal in her speech at Holyrood, saying only that she would "increase the fiscal autonomy and power of local government and put more say over how local budgets are raised in local hands".
However documents published online underlined that "councils will have complete flexibility to set the council tax rate that is appropriate for their local authority area".
The Scottish Conservatives said councillors would be left with "a horrid choice between failing to deliver essential services or making up the shortfall through eye-watering tax rises".
Income tax rates have been frozen, although Ms Forbes has made some changes to the thresholds at which people fall into different bands.
The thresholds of the starter and basic rates are to rise with inflation, but those for the higher and top rates will be frozen at their current levels in a bid to raise extra funds.
Ms Forbes said this would "maintain spending power in households who need our support eh most, yet also raise crucial revenues for public services from those who can most afford it".
However, the Scottish Fiscal Commission warned that income tax revenues were growing slowly, which could create a funding shortfall of £417m by 2026-27.
The fiscal watchdog also said the economic outlook had improved since its last forecasts in January, with Scotland's output set to return to pre-pandemic levels by the second half of 2022.
The £35bn block grant for revenue spending is larger than at any point pre-pandemic.
However, Ms Forbes argued that the overall package of funding available is smaller than in the previous two years, due to Covid-19 support being wound down.
The finance secretary said she had faced "hard choices" in allocating funds while absorbing the ongoing costs of the pandemic.
And she said her proposals would deliver more teachers, more funding for police and record investment in health and social care services.
Other measures detailed in the budget include:
£18bn for health and social care
£4bn in social security payments, including £197m to double the Scottish Child Payment
A business rates relief package for hospitality, retail and leisure firms worth £56m next year
A public sector wage floor of £10.50 per hour
£831m for affordable housing projects
Almost £2bn of investment in decarbonising homes, transport and industry
Ms Forbes said: "This is a transitional budget, as people, businesses and services get back on their feet. It focuses on tackling the climate emergency, reducing inequalities and supporting economic recovery."
MSPs will vote on a budget bill next year, but the plans are already guaranteed to pass with the Scottish Greens having joined the SNP in government.
Ms Forbes said the parties had worked closely on the plans, and Green co-leader Patrick Harvie said they would help "accelerate a just transition to a net-zero economy and lay the foundations for a green economic recovery".
However, opposition parties said the proposals did not do enough to protect Scottish workers and jobs.
The Scottish Conservatives - who had called for more extensive tax reliefs for businesses - said firms had been "left in the lurch".
Finance spokeswoman Liz Smith said: "This budget has mostly been the same old story from a tired government that is increasingly out of ideas."
Meanwhile Labour's Daniel Johnson said the "disappointing" budget was not ambitious enough and represented a "managed decline".
He said that throughout the budget process his party would "tirelessly fight for a fair and ambitious recovery for our economy, our public services, and the people of Scotland".
And Scottish Lib Dem leader Alex Cole-Hamilton said the government had "put councils in an armlock", adding: "It's clear that Kate Forbes wants councillors to take the blame for the decisions she has taken."