Dumfries and Galloway small-scale turbine bids increase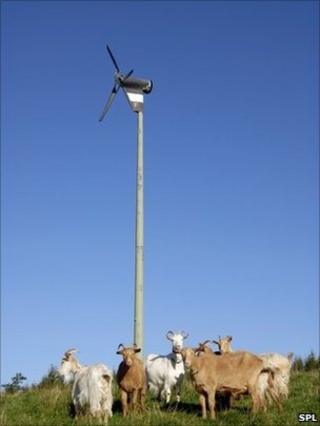 A significant rise in plans for small-scale wind energy projects has been seen in Dumfries and Galloway since the start of the year.
The number of turbines proposed in the first six months of 2010 already exceeds the total for all of 2009.
A government scheme offering cash incentives for small-scale green energy schemes came into effect this year.
Many of the applications in south west Scotland have been submitted for construction on farmland in the region.
Figures obtained by the BBC show the scale of the increase in interest in smaller scale wind energy developments.
There were applications to build a total of 105 turbines taller than 15m (49ft) in Dumfries and Galloway in 2009.
In addition there were 22 turbines covered by screening or scoping requests which can ultimately lead to a full bid for permission to build.
The first six months of this year have already seen plans submitted for 111 turbines with a further 83 covered by scoping requests.
Even if there were no more applications in the next six months that would already be an increase of 40% compared with 2009.
The rising trend looks set to continue for the remainder of the year.
The most recent weekly planning list for the region shows nine such project bids comprising a total of 17 turbines.
Greatest interest is concentrated in the west of the region, particularly in areas close to the Galloway coastline.
As well as the small-scale schemes, Dumfries and Galloway Council is also being consulted on plans for a major wind farm development at Kilgallioch in Wigtownshire.
Scottish Power Renewables wants to build up to 132 turbines at the site about seven miles north west of Kirkcowan.