Borderers keep Afghan 'trust' aim despite deaths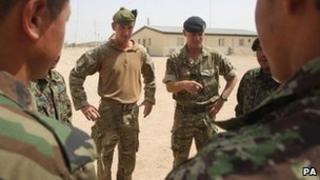 Scottish troops have vowed to continue their training efforts despite the deaths of three servicemen at the hands of a rogue Afghan soldier.
Maj James Joshua Bowman, Lt Neal Turkington and Cpl Arjun Purja Pun died in the attack earlier this week.
The Royal Scots Borderers have been working with Afghan counterparts since their tour of duty started in March.
Sgt Lee McKinney, from Dumfries, said the recent deaths would not stop their attempts to build up trust.
Senior officers have said they will look at their security measures and lessons may be learned from the deadly attack but the programme to train the Afghan National Army (ANA) must go on.
Britain's withdrawal from the country is dependent on security being handed over to the ANA.
The Edinburgh-based Borderers have been playing a key part in trying to achieve that goal.
L/Cpl Christopher Baird, 29, from Blantyre in Lanarkshire, has been patrolling alongside ANA soldiers for months.
He explained: "We need to trust them because you're fighting for their lives and they are fighting for your life.
"We treat them like they are one of us.
"I think the boys will be a bit more aware after what happened - I don't think it will cause any grief between the teams."
Sgt McKinney helps train the ANA in explosive ordnance disposal.
He said: "We don't let what happened affect us or the way we operate.
"At the end of the day, we have the same goal and you've got to have that trust.
"I don't think that the sergeant was planted by the Taliban - I don't question the allegiance of the soldiers."
He has just completed a two-day operation planned and led by the ANA, which was considered a major step forward.
More than 700 ANA and 130 International Security Assistance Force (IsaF) soldiers took part in the operation.
Only one Afghan soldier was wounded during the operation, which saw heavy fighting with the Taliban.
L/Cpl Baird added: "It was a massive success - it showed the Taliban what they can do."
'Rogue individual'
Also helping to train the ANA is 18-year-old Pte Anton Anderson from Dumfries.
He said he did not believe the attack would change the relationship Scottish troops have been building.
"It was an unfortunate event that one out of 10,000 of them decided to do that," he said.
"It doesn't change the way I feel and I think most of the boys are the same.
"The Afghans have a different culture but they are a good bunch of lads."
Lt Col Charlie Herbert, commanding officer of 1 SCOTS, said he believed the actions of a "rogue individual" did not reflect the wider Afghan Army.
"That sergeant betrayed his own army and countrymen to a far greater extent than he betrayed us out here," he said.
"And the Afghanis themselves are devastated at what happened."