Michael Moore backs David Mundell during expenses probe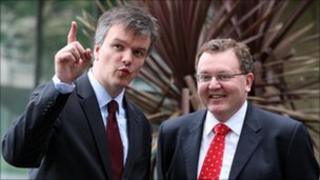 Scottish Secretary Michael Moore has voiced his support for his deputy David Mundell following a police probe into the Tory MP's election expenses.
It is alleged the Dumfriesshire, Clydesdale and Tweeddale MP spent more than permitted under election law.
That has prompted calls from some local Lib Dem and Labour politicians for him to step down temporarily from his Scotland Office ministerial role.
However, Mr Moore said he did not believe that was necessary.
"David Mundell reported himself to the Electoral Commission, he has answered all the queries that have been put to him by different authorities," he said.
"He is carrying that out properly, he is letting those investigations run their course and co-operating fully.
"I have every confidence in him that he can do his job and continue to do it."
Mr Moore declined to comment on whether that situation might change if police decided to charge Mr Mundell.
Last week it emerged Dumfries and Galloway Constabulary was investigating an alleged breach of the Representation of the Peoples Act.
Mr Mundell has said the situation was due "solely to human error" and was "not any attempt to mislead".
He said such mistakes were "not uncommon" and had reported it to the Electoral Commission as soon as it was drawn to his attention.
However, Dumfries MSP Elaine Murray has described the case as "potentially a very serious matter" and urged him to "step aside" while investigations take place.