Annan boiler maker Chinese sale saves 170 jobs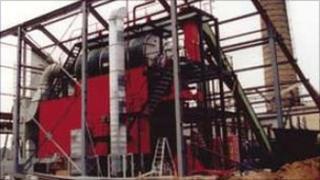 A Scots boiler makers which went into administration has been sold to a Chinese firm safeguarding 170 jobs at its Dumfries and Galloway base.
Administrators Tilly Baker were appointed at BIB Cochran in Annan earlier this week.
They have concluded the sale of the company to a new firm backed by Shanghai Huanuan Boiler Vessel Ltd.
A spokesman for the administrators said the deal was a "fantastic outcome" for the business.
BIB Cochran was placed in administration after its Malaysian parent company announced it was unable to meet future capital requirements.
Joint administrator Keith Anderson said the sale to the Chinese-backed business could provide a "solid financial base" for the future.
'Key milestone'
"BIB Cochran is one of the biggest employers in Annan and it has been our number one priority to save as many jobs as possible," he said.
"A newly formed company, Cochran Ltd, has acquired the business and its assets following our appointment with 170 employees being transferred to it."
SHBV chief executive Dong Ping said it was pleased to have bought the Dumfries and Galloway business.
"The acquisition of this world famous boiler brand and technology is a key milestone for us," he said.
"We plan to grow the brand and invest in new technologies whilst maintaining the manufacturing expertise in Scotland."
BIB Cochran specialises in hot water, steam and biomass boilers.
The business was founded in Newbie near Annan in 1878. It also has a sales office in Lincoln.