Battle of Britain air gunner dies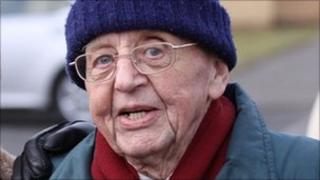 A Battle of Britain veteran from the Borders who took part in 50 raids has died at the age of 90.
George Purslow, of Innerleithen, served in World War II as an air gunner and radio operator.
His contribution was honoured earlier this year when the RAF staged a flypast over his hometown to mark his 90th birthday.
Mr Purslow's funeral service will be held at Innerleithen Church of Scotland kirk on Saturday.
At the time of the flypast in March, Group Cpt Andrew Hine of RAF Lossiemouth said 12 (Bomber) Squadron took "enormous pride" in following flight paths used by Mr Purslow and other WWII veterans.
"It is humbling to hear the accounts of his experiences during the war and an honour to be included in his birthday celebrations," he said.
His family said it was the best birthday present he could imagine.
His daughter, Dorothy Gordon, said this week: "He was a true gentleman with a dry sense of humour and a love for everyone, especially children.
"The flypast really was the pinnacle of his life and he was thrilled to bits.
"The RAF was so proud of him."
The Battle of Britain is the name given to the air campaign waged by the Luftwaffe against the UK in 1940.
Germany failed to gain air superiority over the RAF, despite a sustained aerial bombing campaign.
Wartime Prime Minister Winston Churchill said: "Never in the field of human conflict was so much owed by so many to so few."