Dumfries sex abuser jailed for eight years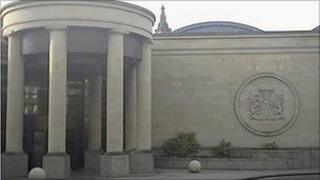 A Dumfries man who sexually abused a 15-year-old girl and sent her indecent text messages has been jailed for eight years at the High Court in Glasgow.
James Little, 62, carried out the offences between April and August last year in his home town.
A plea of not guilty to a charge of raping the schoolgirl was accepted by the Crown.
Little also admitted sexually abusing two other girls at a house in Dumfries between 1978 and 1996.
The court had previously heard how the 15-year-old told her mother about the abuse on 18 August last year.
Little's DNA was discovered after a swab was taken from the girl's chest.
A plea of not guilty to raping the teenager was accepted, but he admitted sexually abusing two other girls, starting more than 30 years ago.
He indecently assaulted one girl from the age of nine to 16 and the other on one occasion when she was 17.
Little confessed those crimes to social workers who spoke to him when he was admitted to hospital last year.