A74(M) crash victim struck by 'number of vehicles'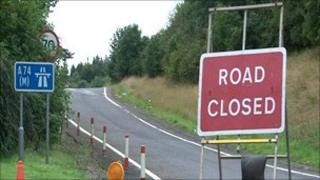 Police have said a man killed when he walked onto a motorway linking Scotland and England appears to have been struck by several vehicles.
The accident happened shortly before 0130 BST on the southbound carriageway of the A74(M) near Johnstonebridge, in south west Scotland.
The victim, in his late 20s, is believed to be from the Newcastle area.
Family members who were with the man prior to the crash are trying to help police establish his final movements.
A spokesman for Dumfries and Galloway Constabulary said one driver who witnessed the incident had been taken to hospital suffering from shock.
He said initial investigations appeared to show that a male pedestrian had been struck on the southbound carriageway by a number of vehicles and died as a result.
"Police attending found a number of vehicles had stopped at the scene, all of which appear to have struck the man," he said.
"It is also thought that a number of other vehicles may also have struck the man, and the drivers may well be unaware that they had done so and as such did not stop."
Formal identification has not taken place but the man is understood to be from the north east of England.
Police have appealed for anyone who may have witnessed the "tragic event" to contact them.
The motorway was closed in both directions for a time but both carriageways have since reopened.