Hawick rugby player death crash drivers jailed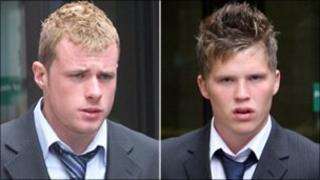 Two young drivers from the Borders have both been jailed for four and a half years after they admitted causing death by dangerous driving.
Sean Goodfellow and Murray McAllan, both 19, hit speeds up to 90mph on the Kelso to Jedburgh road in April 2009.
Goodfellow's car left the road and his passenger, 17-year-old rugby player Richard Wilkinson, was killed.
At the High Court in Edinburgh, Judge Kenneth Maciver told them it had been complete folly to drive at that speed.
He said the decision to race was "indescribably stupid" and the resultant crash was "virtually inevitable".
The judge said the dangerous driving of the pair, both from Hawick, had cut short a "valuable and treasured life".
"The impact of that on his parents, his brother and his sister has been enormous as is made clear to me in their careful and comprehensive written statement and explanation of the effect on the family," he said.
"Their grief and feeling of loss is obvious and immeasurable."
The judge said he had considered whether to differentiate the sentences for the pair as Goodfellow had been driving the car in which Mr Wilkinson had died.
'Irreplaceable hole'
However, he said he had come to the conclusion they had both been "fully engaged" in racing one another.
"The only decision that I can make is that this death was caused by the dangerous driving of both of you and in terms of culpability it is not possible to separate you," he said.
He said he had taken into account their early guilty plea and the fact the pair had no history of bad driving in deciding their sentence.
In addition to their jail terms, both Goodfellow and McAllan have also been given a 12-year ban from driving.
Lawyers for the pair told the court the teenagers were of previous good character, had good backgrounds and employment records and posed a low risk of re-offending.
They also spoke of their remorse about what happened which the judge said he accepted was genuine.
Following the hearing, Mr Wilkinson's family spoke of the "irreplaceable hole" left in their lives but voiced hope that other young drivers will learn from the tragedy.
In a statement read out by Pc Rory Campbell of Lothian and Borders Police, they said: "The outcome of the sentence bears no relation to the sentence we have already endured, or will continue to endure for the rest of our lives.
"If there could be one possible thing to come from losing Richard, we can only wish that young drivers learn from the devastating consequences of speeding and driving dangerously and the resultant loss of young lives.
"Richard gave so much in his short life - he was extremely popular and well-loved."
They added that he had "so much more to live for".
Lothian and Borders Police said it hoped the sentences would send a "clear message" to drivers that "dangerous and reckless" driving carried serious consequences.
Insp Fraser Jervis said motorists had to remember they were responsible for other people's safety when they got behind the wheel.