Man hit several times on motorway identified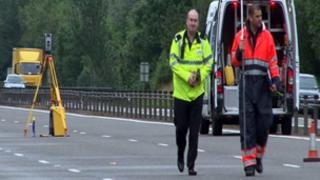 A man killed when he was hit by a number of vehicles after walking onto a motorway linking Scotland and England has been identified by police.
Raju Gurbaksh Singh, 28, of Washington, Tyne and Wear, died in the accident at about 0130 BST on Tuesday on the A74(M) in Dumfries and Galloway.
The road was closed for several hours as police carried out investigations.
They have appealed for anyone with information about the "tragic death" to contact them immediately.
Initial inquiries showed Mr Singh was struck by a number of vehicles after walking onto the southbound carriageway of the main route linking Scotland and England.
Some of the drivers involved stopped at the scene, but police believe others may have hit him but been unaware they had done so.
One of the motorists who witnessed the incident required treatment in hospital for shock.