Dumfries and Galloway MP raises Connaught staff fears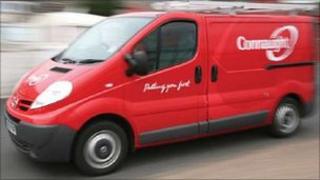 An MP has raised concern for south west Scotland staff at housing maintenance firm Connaught after it emerged its debt levels were worse than expected.
The Exeter-based company saw shares fall nearly 70% after it identified an "urgent" need for extra funds.
It has a major contract with Dumfries and Galloway Housing Partnership and employs almost 150 staff in the region.
Local MP Russell Brown said he planned to speak to workers about the situation and any impact on their future.
"In terms of members of the workforce, this is an extremely difficult time for them," he said.
He said he hoped the situation would not worsen and affect jobs or the maintenance of homes in the region.
A DGHP spokesman said it was "business as usual" for the two groups.
"With any business agreement or contract, however, we have a business continuity plan in place should any situation arise to ensure we deliver a continuous service to our tenants," he added.
A spokesman for Connaught said it was in "constructive discussions" with lenders about securing additional funding to meet its business needs.
"We have been keeping in close contact with our clients to keep them informed and the overwhelming reaction from them has been supportive," he said.
"Our priority remains providing our clients with a high quality, value for money service at all times and these current issues will not prevent us continuing to deliver services across Dumfries and Galloway."